FESTIVAL ARTISTS
MERRY HELL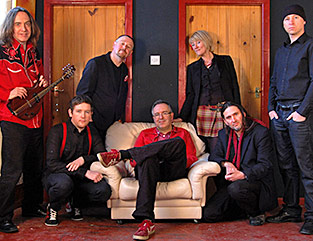 MERRY HELL is a band founded on the ever evolving Folk tradition – music made by the people and shared by the people. Though our hearts and souls are tuned to the songs which came before us, we bring you new words and music forged from our own experiences, from the lows and the loves of our lives. Our art is energy and our hope is unity. Our pleasure is to please: let the audience be the acid test and let the music speak for itself...
Merry Hell's debut – "Blink… and You Miss It", perhaps like the several albums produced by their predecessors The Tansads deserves far more recognition than it has had, solely for the reason that it is deep, meaningful, and above all excellent work.
With an ever growing catalogue of their own material, they have a rocky style that is foot-tappingly uplifting with story-telling lyrics set to catchy melodies that get everybody singing along – even Merry Hell virgins!  Their collective song-writing is superb with evocative titles like "Criminals in Pin-stripped Suits", "Drunken Seranade in the Rain" and "Blink… and you miss it".  Chris Birchall
ANTHONY JOHN CLARKE
Anthony John Clarke  takes us from happy to sad and every emotion in between - he just seems to have the knack of hitting the nail
right on the head  with every song he performs. You don't just get a guy singing songs, you get a great perfomance - he has a great sense of timing.   If you haven't been to one of his gigs yet, just take time to do so.
He storms it every time he gets on a stage. Brilliant!!! He had our audience eating out of his hand every night on the Fairport Convention Tour. (Dave Pegg, Fairport Convention)
STEVE TILSTON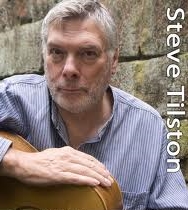 In the Pennine hills in Yorkshire there lives a singer-songwriter and guitarist who has never achieved the public attention he deserves, but has always been praised by fellow musicians. Steve Tilston writes thoughtful, highly personal songs and is one of the finest instrumentalists on the folk scene, with a style that echoes the elaborate, rhythmic "folk baroque" guitar work of Bert Jansch and Davy Graham. He writes about anything that takes his interest.
Robin Denselow guardian.co.uk, Thursday 21 July 2011
Steve Tilston, in case events have conspired to conceal the fact from you thus far, is that very rare combination of singer, songwriter and guitarist who actually excels in all departments. Folk Roots
Steve Tilston, singer songwriter and exquisite guitarist… is hard on the heels of Richard Thompson in the perennially underrated stakes.  Q Magazine
…absurdly accomplished singer/songwriter and guitarist. Living Tradition
His music has a flow and poignancy, which makes it, stand out from the plethora of singer/guitarists on the scene. Guitar Magazine
…He's an unsung hero quietly going about the art of music making. Zip Code