FESTIVAL ARTISTS 2016
WELCOME TO COPPULL FREE FOLK FESTIVAL 2016
Westminster Stage Engineering are delighted to once again be providing sound and lighting for the Coppull Folk Festival.  They have a large stock of staging, sound systems and lighting systems available for hire.
Contact them on This email address is being protected from spambots. You need JavaScript enabled to view it. or see Bill and Lesley on the sound desk at the festival for more details.
 

THE RARE OU

LD TIMES - FRIDAY 10 JUNE 8 PM
 Lawrence is a singer songwriter for many years, and has written some superb songs.  He has a wide repertoire and sings his songs with confidence and feeling.  His latest CD deals with songs related to the emigration of Wiganers from there to Australia.   He has teamed up with his singing partner of many years Steve Higgins.  Steve is an accomplished guitarist and banjo player, and is a brilliant melodic singer, with a wide range of songs mostly with an Irish theme. Debbie  is an excellent fiddle player and provides a musical background to make this trio a great combination.  This is their first time to the Festival and we all look forward to their gig which should get the Festival off to a great start.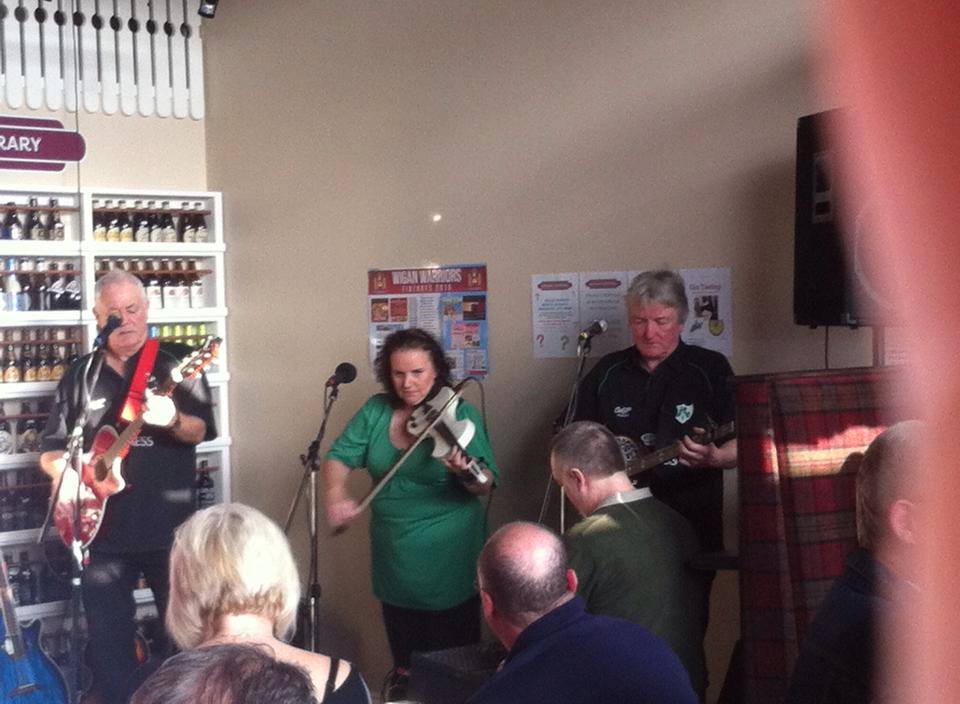 BANDERSNATCH - FRIDAY 10 JUNE 9 PM
Bandersnatch have created a distinctive style within the folk, roots and acoustic genre with a blend of great harmonies and wonderful musical arrangements. The band has the ability to move seamlessly from traditional to contemporary and self-penned material with a repertoire ranging from gentle ballads to driving, rhythmical folk rock and blues.
Whilst often giving a refreshing edge to established favourites, the band also endeavours to introduce contrasting material from the less frequently explored corners of this particular musical landscape.
Biography
The UK based folk/roots/acoustic band - Bandersnatch have been performing since 2000 although the line-up changed in 2007. Their repertoire ranges from sensitive arrangements of gentle ballads to driving, rhythmical folk rock and blues. Whilst often giving a refreshing edge to established favourites, the band also endeavours to introduce contrasting material from the less frequently explored corners of this particular musical landscape. The warmth and humour that allows them to connect with their audience is not compromised by the discipline that they bring to their performance.
The Cross Keys Folk Club GIG Review
Tremendous act. Their interpretations of a whole host of songs was always very much their own touch, whilst always adding to the well known originals. Songs like "Little Iron Pot Stove" and "Slip Jigs and Reels", so well known in their originals versions that over the years not that many people include them in their sets, were here given a very "Bandersnatch" treatment and were all the better for it.
 Bob Dylan songs, James Taylor songs were all present in beautifully crafted arrangements. The final number "The Weight" from The Band was a masterful blend of rock and acoustic. Funnily enough my car CD compilation at the moment has a a load of The Band on it, so sat in a jam on the M62 this morning I could compare it to the original. Levon would have been more than happy to lay down the beat.
 The highlight for me came early on when Rebecca sang "If it hadn't been for love". We've had some superb performances by many artists over the years, this ranked as high as any. It impressed me all the way down to my toes. A dip into Dylan's Nashville Skyline followed to make a magical pair of songs.
 From the bass line to the lead instrumentation, vocals and harmonies everything fitted and sounded just right. Perfect.
(C Stuart Cook : Resident performer )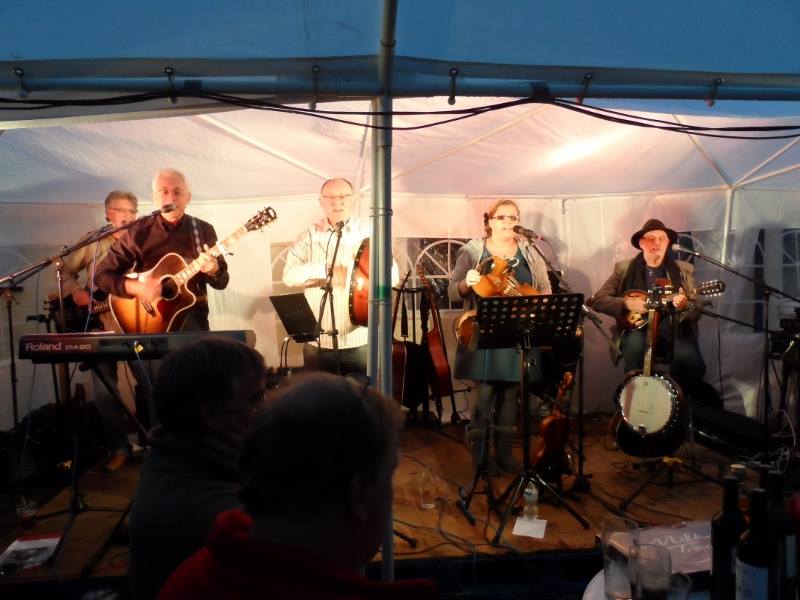 KEN SCALLY SATURDAY 11 JUNE 2 PM
Ken has been a stalwart promoter of the festival for 5 years and is a very talented musician and all round folk singer. He specialises in traditional Lancashire songs, poems and stories bringing them to life in his own inimitable way. Saturday afternoon is his spot where, not on does he do a great set, but he invites new talent to grace the stage with a different theme each year. There is so much untapped talent in the Wigan area. This year its the  local talented singer/songwriter spot and no doubt the afternoon will be as enjoyable as ever.  
KEN SCALLY - 2 PM,  COLIN WINSTANLEY 2.25 PM,  LEE CULLEN 2.50 PM, PETE SOUTHWORTH 3.15 PM, A.D. COOKE 3.45 PM.

A.D. COOKE
 Andrea is well known on the Cabaret scene belting out raunchy rock and pop anthems as Andie Dee, Guitar Girl,  with her custom white electric guitar. When she is relaxing in jeans and t shirt with her trusty Taylor folk guitar she pens some fantastic personal songs that Joni Mitchell would be proud of.   Andrea also writes songs to sing with her Ukelele.  We can't wait to hear this acoustic side of Andrea again, and Coppull is the perfect stage for her great songs.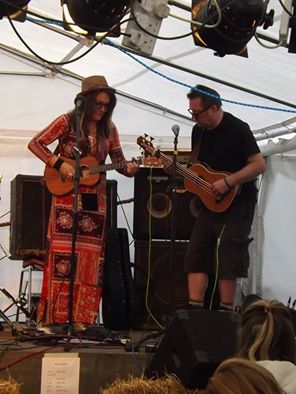 LEE CULLEN
Lee Cullen, made his Coppull debut as guitarist for Little Bird (our good friend Susie). Lee sang one his own songs during the set and we wanted more.  So he is coming  to the Festival to do a solo set.   Lee will provide us with a young perspective on songwriting.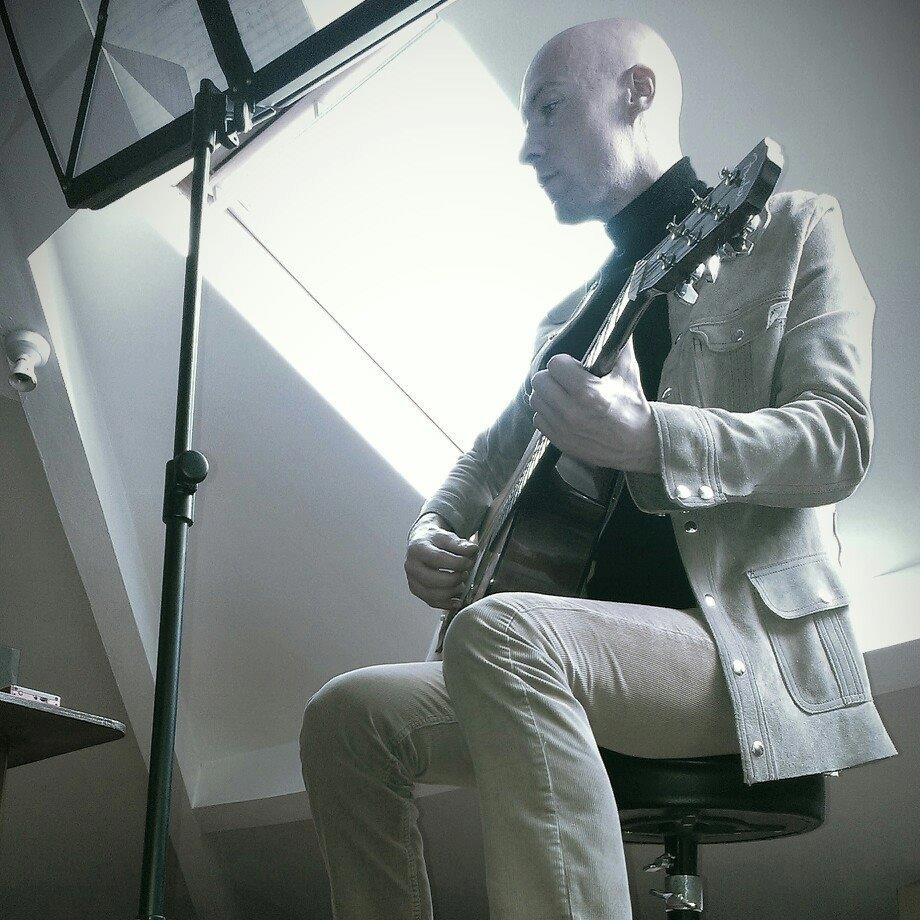 COLIN WINSTANLEY
Colin is relatively  new to song writing but is definitely a latent talent.  His songs are in many styles from Lancashire comedy to thought provoking personal songs.   He has a few new songs  to debut and we are  looking forward to this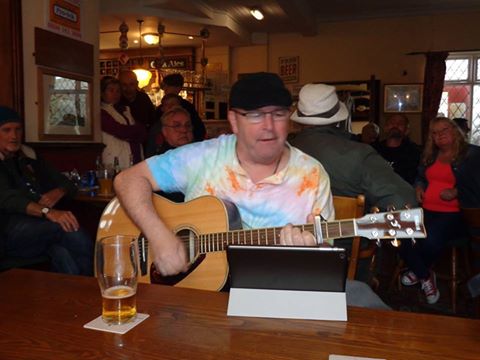 PETE SOUTHWORTH
Pete has finally decided to get all the songs he wrote at the kitchen table and make a CD, which  he will launch  at the festival.  Steeped in the 60's protest singer style, his songs sometimes take on an older old time country feel with a lovely laid back style.  Although he has never been to Ireland, he has penned some magic songs especially the song about Sligo and the one about Derry.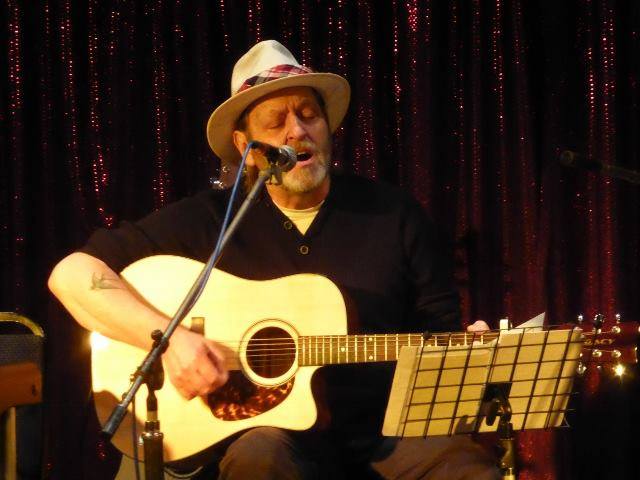 KIM AND WAYNE - SATURDAY 11 JUNE 8 PM
 Kim is an ex professional singer, done the circuits for many years. Kim has a bluesy, raspy powerful voice, similar to Bonnie Raitt, Janis Joplin, Bonnie Tyler, Kim Carnes, Lulu. She can also do the tender ballads when required. She sings  from the heart and always  gives an enjoyable performance .
 Wayne has been playing guitar in bands since the day dot… rather obsessed with music!   Loves a wide range of music, from rock & prog rock, blues, folk. Too many influences to list.  His guitar accompaniments are ace and he ably assists Kim with melodic harmonies.  Both Kim and Wayne are a class act together and we look forward to their first gig at the Festival.
http://www.kim-and-co-band.co.uk/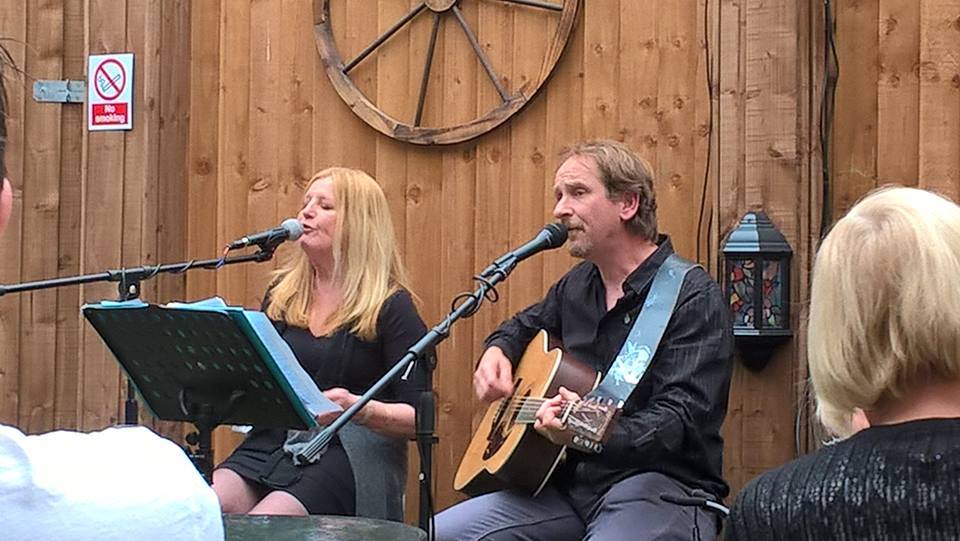 HARD TIMES ACOUSTIC FOLK BAND - SATURDAY 11 JUNE 9 PM
HARD TIMES is a Lancaster based Folk band who play regularly in Northwest England.  They wowed us with their talented set last year and we have asked them back.  Laurie's outstanding whistle playing and humerous banter had us entertained all night.  
GORDON JOHNSTON ... Banjo, Mandolin, Guitar and Vocals.
LAURIE JOHNSTON ... Whistle, Flute, Mandolin, Guitar and Vocals.
GEOFF WILKINSON ... Bass and Guitar.
Gordon
Gordon Johnston is one of these guys who can play most anything with strings attached. His main instrument in Hard Times is 5 string Banjo which he plays to a level unsurpassed in this part of the world. He is an excellent guitarist and mandolin player and features prominently on these instruments on any performance.
Laurie
Laurie is the band's main vocalist who also plays Flute, Whistle, Guitar, Mandolin and one or two other bits and pieces. As with the other lads, Laurie's performing skills are of the highest order and he expects nothing less from the band as a whole. He is the "Front Man" and presents their shows with good humour, informative anecdotes and musical excellence.
Geoff
Geoff Wilkinson is the band's Bass player and a fine Guitarist who compliments the musicianship generated by this talented trio.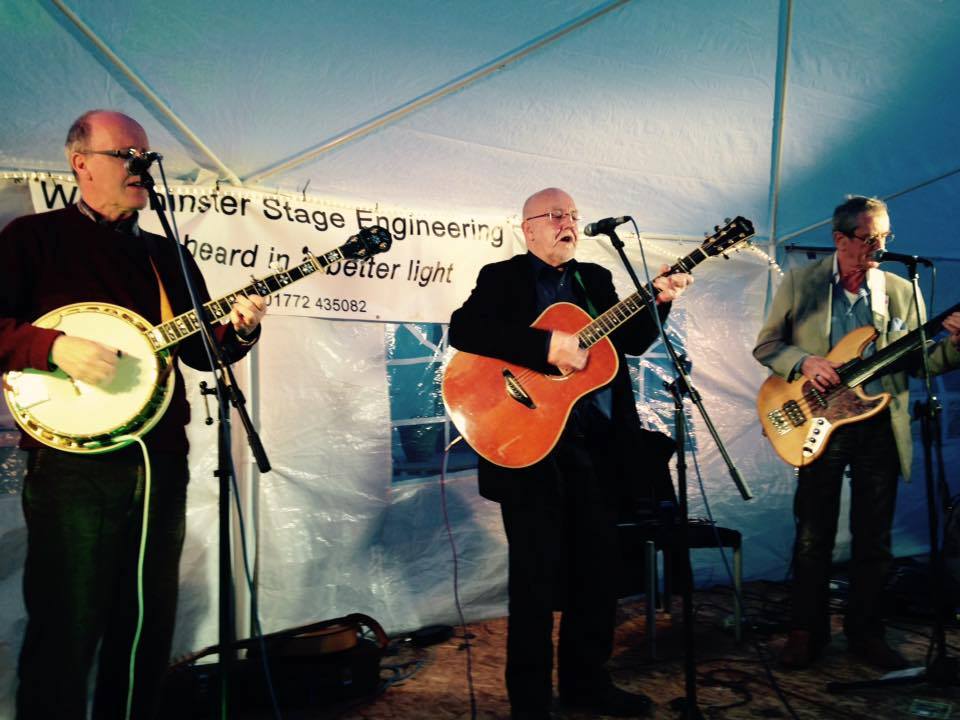 CHONKINFECKLE - SUNDAY 12 JUNE 8 PM
www.chonkinfeckle.co.uk
Wigan's own totally unique stage act are Chonkinfeckle. The carefully written comedy lyrics about all places and things "Wigan" are accompanied by excellent ukulele, keyboard, percussion and mouth organ playing. These three performers bravely manage to produce a set so different that they can only be classed as brilliant.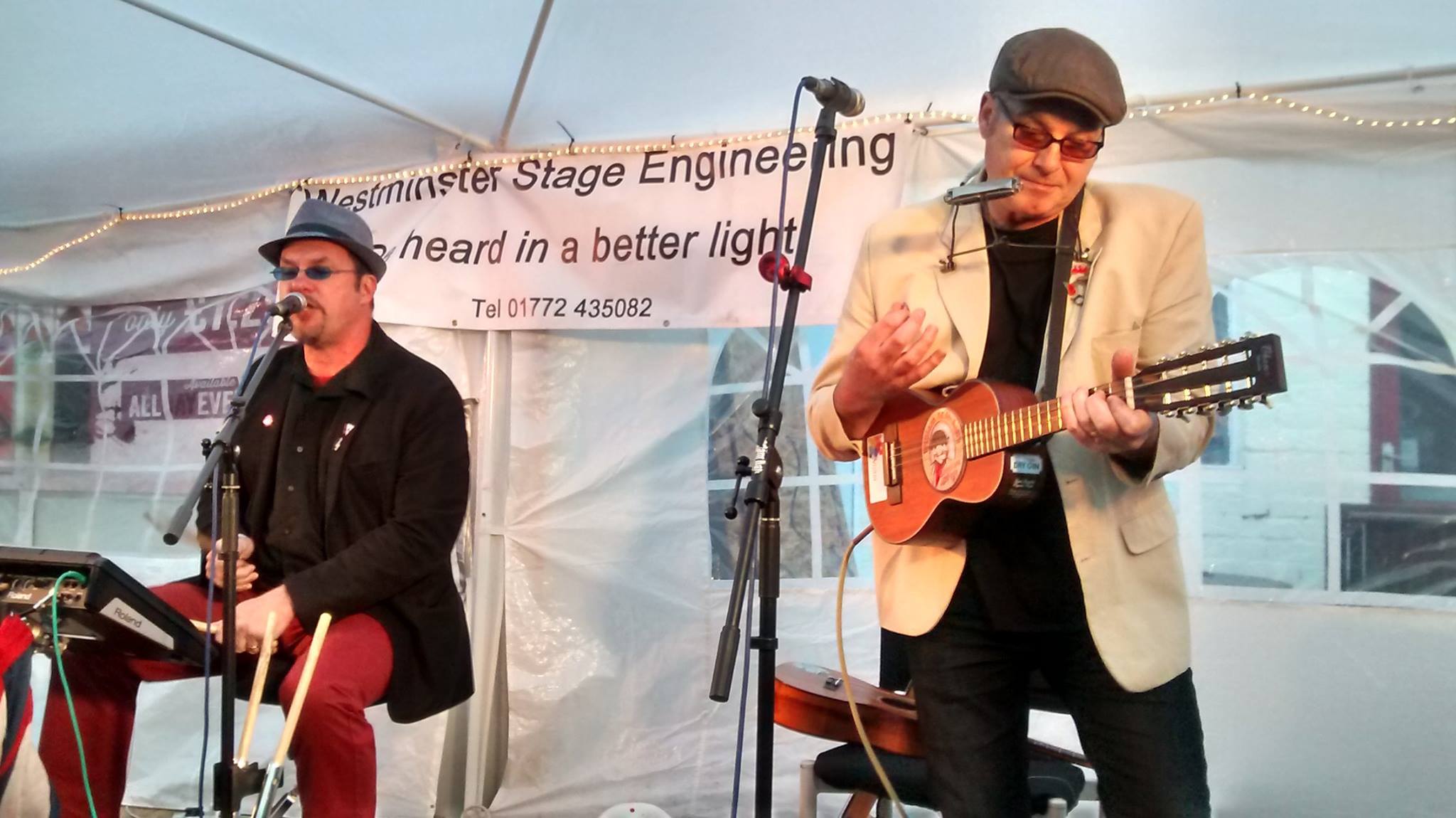 JON BRINDLEY - SUNDAY 12 JUNE 9 PM

This is one of the most versatile, entertaining, and brilliant singer-songwriters in the North West. We are delighted to welcome him back.
From Jon's Website:
I'd like to let you know about the music in me.... I feel very lucky that I've played and sang in piano bars, at some of the larger folk festivals, art galleries, country festivals, pubs, arts centres, care homes, band stands, on street corners and café terraces all over Europe.
My songs might well take you to new places and after the feeling that brings the creation of a song I want to recreate the atmosphere and spark of that moment…
My latest album, The Missing Emotion, was recorded with my voice, my acoustic guitar and the double bass of James Budden, then layered with other instruments played by myself (with the notable exception of Steve Wickham on the fiddle).

Performing is like being on a journey – one that can find a lively rhythm - and there's so much to share along the way… Sometimes I will caress those guitar strings delicately then other times throw that beat straight at you creating bass lines and layering lead phrases on the chord progressions. My fiddle was handed down from my Grandma and I could well play you one or two of my compositions. I was inspired to take it busking all round Europe after reading Laurie Lee. I've explored music through many forms. Celtic melodies, blues, contemporary folk, country, rock, popular songs and traditional ballads can all be picked out of my repertoire and it's usually my own interpretations. Expect the unexpected!