Martin Baker RIP 3 June 2010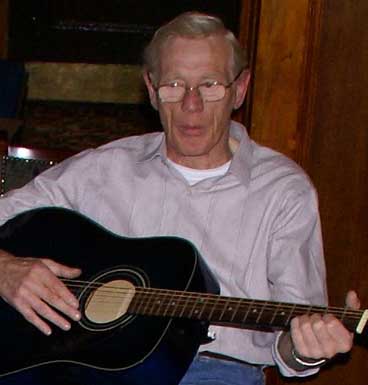 It is with deep regret and condolences to his family and friends that we share the news of the sudden death of Martin Baker on the morning of Thursday 3 June 2010. The previous evening Martin had been a part of Coppull Folk's regular singaround and as usual played a lively an active part in the event.
Martin's funeral will be on Friday 11th June at 2pm at St Annes church, Shevington, followed at 3pm by the crematorium on the A49 at Euxton, followed by a reception at the Bowling Green pub on the A49 near Charnock Richard, from about 4pm. Martin's family invite his music friends to all three.
Martin was a vital part of the folk scene in Wigan as well as at Coppull and Crooke. The truly amazing thing was this was true, yet he never sung a folk song. He would regale us with old country songs from George Jones, Hank Williams and many others with a smattering of Johnny Cash, Kris Kristofferson and John Prine all sung in his "authentic" Nashville accent.
Martin simply wanted the best in everything, when he sang he performed, when he performed he entertained to the best of his ability. When he joined in and accompanied he knew exactly how the song would go best, sometime he was wrong, but he always contributed to the maximum.
Martin contributed behind the scenes, helping to organise festivals and events. He was particularly active in getting the festival in 2010 off the ground and much of what will take place in just a few days time will be to his credit.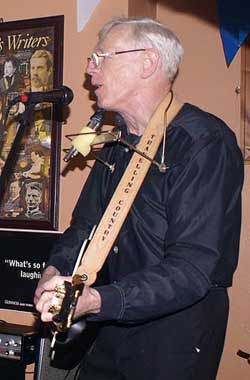 In the few short hours that we've had to reflect on his memory here are a few of the comments of his musical friends.
Martin just loved to shock... but he's gone too far this time! I wish I could tell him to his face...
Martin borrowed my capo the other week to do a folk song, he put it on the end of his guitar and started laughing. Thursdays at Crooke won't be the same.
Martin loved to sing "Gotta to Get Rid of this Band" and always made sure he named us all in the song, it was a privilege to be included; well now he has got rid of us all!
The man who put the Eck into Heckle and country into trad folk
Inside Martin was a very warm and kind gentleman (he would deny this with embarrasment if I ever mentioned it!)
What can I say about Martin. A one off, irreplaceable, noisy, funny, kind hearted, I have lots of good memories of times spent with him.
Martin, the very definition of local colour.
Martin was the star of the party.
Wonderful memories of a man who made these singing ocassions special.
Most of all Martin would wish us to celebrate his life in song, so sing a song or two for Martin over the next weeks and months.