Free Weekend of Folk Music Festival - 2014
FRIDAY 6 JUNE 2014  8 pm
MERRY HELL
MERRY HELL is a band founded on the ever evolving Folk tradition – music made by the people and shared by the people. Though our hearts and souls are tuned to the songs which came before us, we bring you new words and music forged from our own experiences, from the lows and the loves of our lives. Our art is energy and our hope is unity. Our pleasure is to please:  let the audience be the acid test and let the music speak for itself...
Geographically, Merry Hell hail from England's working class north-west.  Raised on the belief that an honest day's work deserves an honest day's pay, that you stand strong in unity with those around you, that those who fall are picked up."  -  From website.
 Their two albums "Blink and you missed it" and "Head full of Magic, Shoes full of Rain" have deservedly received rave reviews.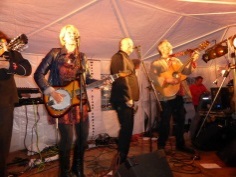 They have a rocky style that is foot-tappingly uplifting  with story-telling lyrics set to catchy melodies that get everybody singing.  Their collective song-writing is superb.
You are assured of a musical, dynamic, thought provoking evening's entertainment.  They have put life back into folk music.  We all love Merry Hell and are grateful for the many times that they have come to entertain us and help us with the Festival. 
SUPPORT ACT
JON BUDWORTH
Jon is a newcomer to our Festival and we look forward to hearing him perform his self-penned and traditional English and Irish songs.   Jon, who is from Leigh,  began playing the guitar when he was  11, and  progressed to learning tunes like "English Dance"by  John Renbourne,  "Beeswing"  by Richard  Thompson and "Candeeo" by Nic Jones.  He is  a very  able guitarist and sings his songs with clarity and musicality.  has  launched two very successful albums – "Time Machine in 2013 and "Trees turn to Fire" in 2014.  We look forward to the live performance of this up and coming star as the opening act.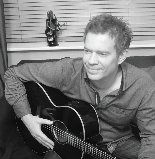 SATURDAY 7 JUNE 2014 1.45 pm
THE STRAWDOGS
Once again, we welcome this talented local group.  Their set includes many local "Lanky" songs both historical and comical, which is Ken Scalley's specialism.   He knows how to get the audience going and he is a very talented entertainer.  Peter is the Dylan expert and no doubt one or two Dylan songs will be sung to complement Ken.  Chris may even make a guest appearance like she did last year.  They will be ably assisted by Barry on his bass guitar.  We always enjoy their sets and listening to the wealth of songs about Lancashire local culture and of course Dylan!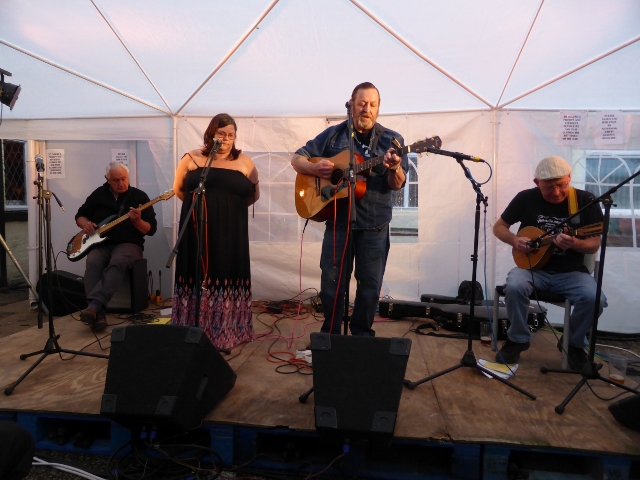 THE CROWNE EXTRAVAGANZA
This promises to be an exciting hour of live music from one of our local Clubs.  Sometimes a surprise is good, and we have been assured of many talented musicians and singers on stage to close the afternoon concert.  There is much talent about Wigan and environs and we are proud to be able to showcase some of it.
SATURDAY 7 JUNE 2014 8PM
GREGG RUSSELL and CIARAN ALGAR
http://www.russellalgar.co.uk/'
Multi-instrumentalist Ciaran (Fiddle, Bouzouki, Guitar, Vocals) and Greg (Vocals, Guitar, Bouzouki, English Concertina) are a duo with an amazing level of energy, ability and stagecraft.
In 2011 multi-instrumentalist Ciaran (Fiddle, Bouzouki, Guitar, Vocals) met and joined forces with Greg (Vocals, Guitar, Bouzouki, English Concertina) to form a brand new duo. Northwich Folk Club saw the pair's first live performance and since then they haven't looked back, receiving great reviews from live performances all over the country.   Both come from musical households and were regulars at folk festivals, clubs and sessions from early ages.
Cia was a member of Celtic music band TRI as well as becoming an All-Ireland and All-Britain fiddle champion on several occasions whilst Greg's musical career began as a solo artist, initially supporting acts such as Lau, Karine Polwart and Kerfuffle and increasingly playing gigs in his own right. Their backgrounds give Cia and Greg a wide range of influences, the duo performing pieces from Traditional collections, contemporary writers and self-written tunes and songs.
The pair's first tour followed the release of their  album "The Queen's Lover"  in 2012 which has received excellent reviews.  At the  beginning of 2013, the duo were nominated for,  and went on to win the 2013 BBC Radio 2 Young Folk Award.  In 2014, they won best New Folk Act at the BBC RADIO 2 HORIZON AWARDS.  Album number 2 is due out soon.  We look forward to their gig on Saturday night.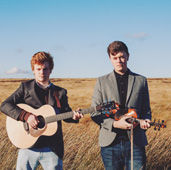 SUPPORT ACT
TURNPIKE
We welcome back Turnpike to open the Saturday night concert.  This group do folk/ bluegrass tunes well.  They are talented musicians and they produce a wonderful melodic harmony in their songs, some of which are self-penned.   We look forward to another entertaining set.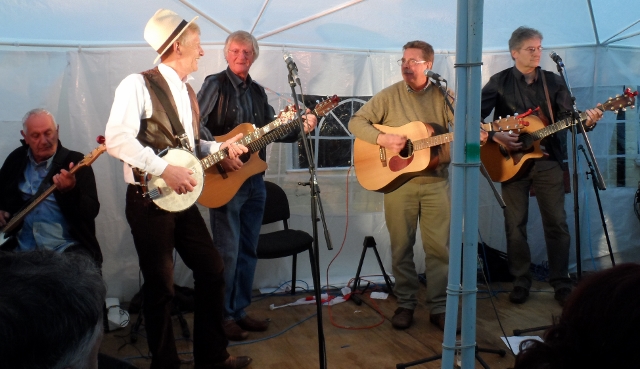 SUNDAY 8 JUNE 2014 1.45 PM
OPEN MIC SESSION
This is where we welcome all the other talent that attends our Festival, to sing 2 songs on the stage.   Since we have introduced this spot, we have been blown away by the high standard of the many musicians and singers who take part.   Indeed some have said that this spot is the highlight of the weekend.   So if you fancy showing us what you can do, just come along on Sunday afternoon and put your name on the order list.
SUNDAY 8 JUNE 2014 8 PM
ONE HAND CLAPPING
We welcome back the very popular One Hand Clapping once again to close our festival.
This group has changed the line up a few times and the current set up is a class duo that does traditional and modern folk and bluegrass music.  Their set alternates between high energy and soulful melodic songs.  Tim and Chris complement each other brilliantly with fiddle and guitar.  Some songs and tunes are self-penned, and many are Irish standards that we all love to hear performed well.  
We have always enjoyed their sets, and especially their last Fundraiser concert, where we were blown away by the overall package.  We look forward to another fine gig from this talented duo.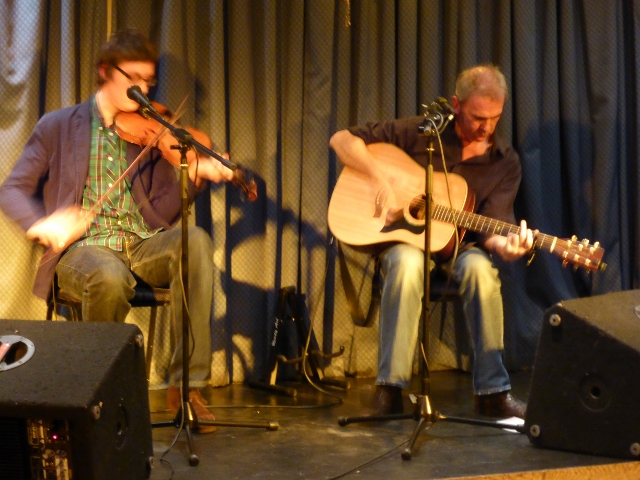 SUPPORT ACT
PAULINE BLACKBURN  -  LITTLE MISS PAULINE
We have watched Pauline develop her stage career locally, and she is now a very competent singer/songwriter and guitarist.   Pauline has entertained us at some of our fundraisers so we know we're in for another treat.  She has a magic singing voice and delivers her message in her songs  with musicality and passion.   She is a very popular performer doing many local gigs and festivals.  For the last year Pauline has been working on her first album, with Merry Hell's, John Kettle, putting band arrangements to her songs, which has been new and very exciting.  Some of her music and details of her gigs are available on her Facebook page.  https://www.facebook.com/pages/Pauline-Blackburn-Little-Miss-Pauline/103065139818615.   We look forward to her set.