COPPULL FREE FOLK FESTIVAL 2022
FESTIVAL 2022 REVIEW

We had a great festival 2022.  It was so good to see so many people enjoying themselves and creating the friendly and homely ambience that this festival has.  Thanks to Brendan and Janet and the team for the use of the pub premises and all the hard work that goes with servicing a festival, to Andy for the lovely food, to Phil and  the Rugby club for accommodating the camper vans, to Ken for the stage, to all the magnificent artists (photos to follow when I get them sorted), to all you lovely people who support our festivals every time - many who travel long distances, to Mervyn Rimmer for the excellent sound, to Ken Scally for being M C and getting all the wonderful artists to come, and lastly to the committee and all the helpers who worked on the fund raiser concerts, getting the tent sorted, raffle tickets, etc.  This excellent teamwork left us all with that 'feel good factor' AGAIN.  A job well done. X
Day 1 Friday Evening concert

Tonight the wind stopped rocking our tent, and the we had a full house.   The Pelican Babies opened our festival and entertained us with beautiful harmonic singing and guitar playing and of course the didgeridoo made an appearance.  They were followed by Rare Ould Times who played a  foot tapping energetic mainly Irish music set,  enhanced by Tim and his state of the art red fiddle. 
The session in the bar was lively as well. 
It was so good to see that so many friends have come back again.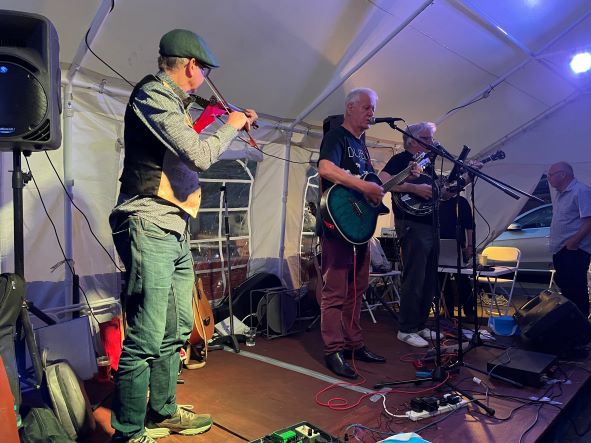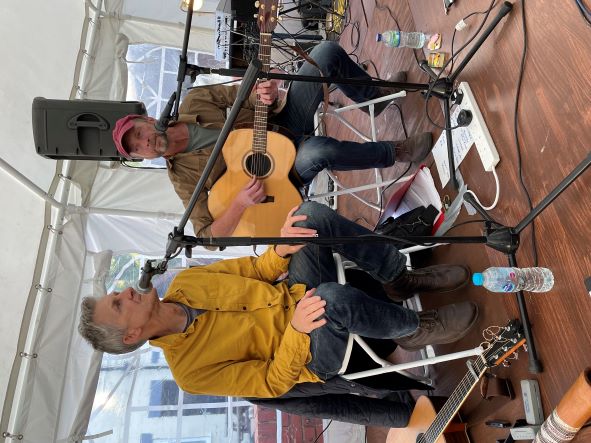 Day 2  Saturday Afternoon Concert 'Ken's Extravaganza'

Bernadette and Graham - 'Trouble at Mill'. Opened our afternoon concert with a very entertaining set and got us all laughing and joining in singing their comical songs.  Luke Geraghty and Tommy Jones followed with some modern self pens and a few Scottish and Irish songs.  It was great to see a  enthusiastic and energetic performance with drive and musicality from the younger generation.  'The March to Peterloo' written by Ken Scally and Lawrence Hoy was a musical drama presented on stage with a cast of 10 musicians, actors and singers.  It was a very moving and informative piece of theatre which was delivered with passion and  commitment and was enjoyed immensely by the large audience.  Thank you to all our artists for a very successful afternoon.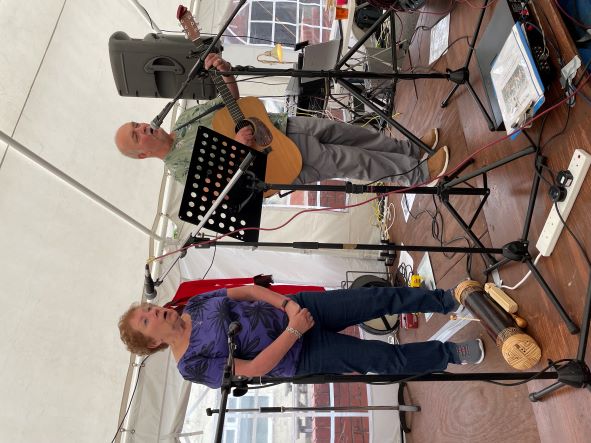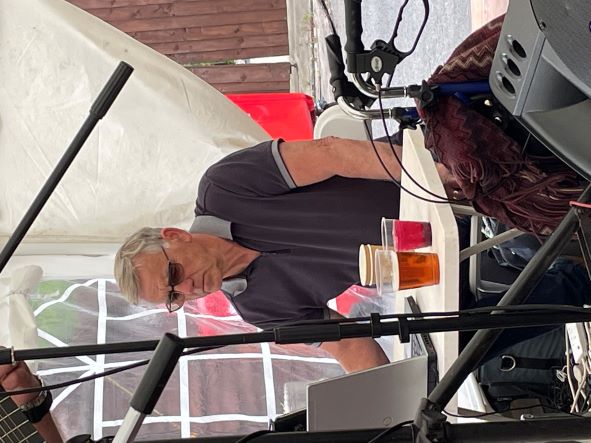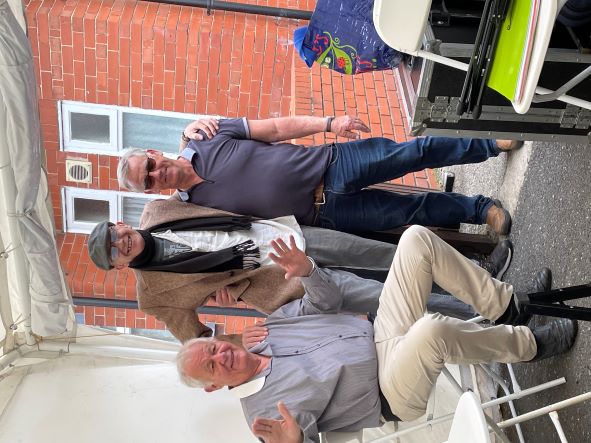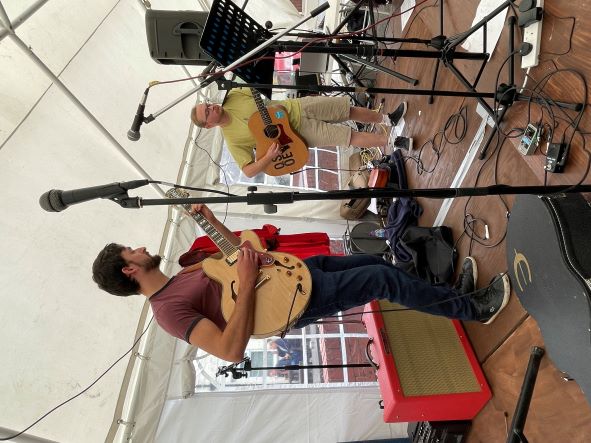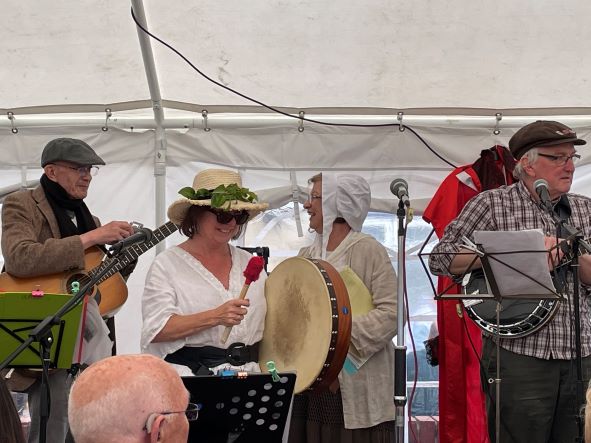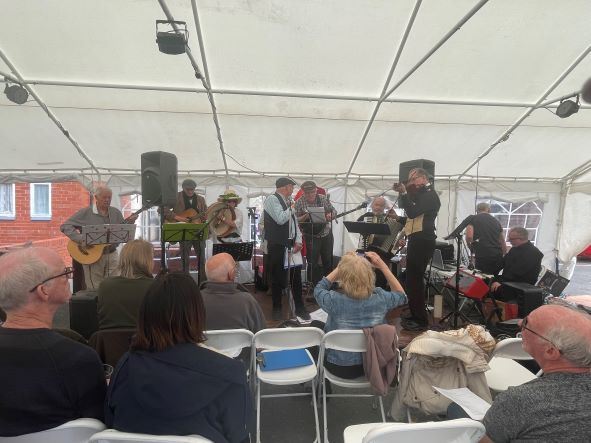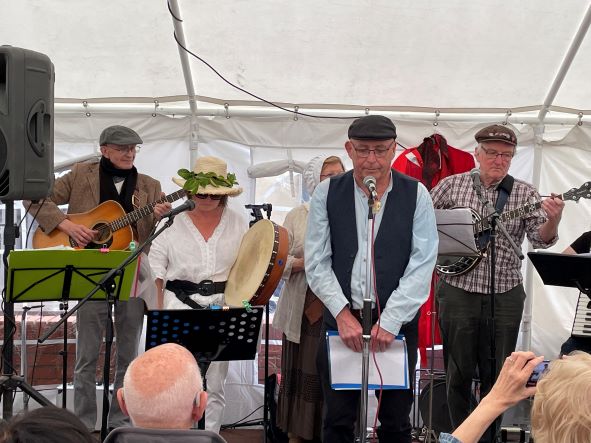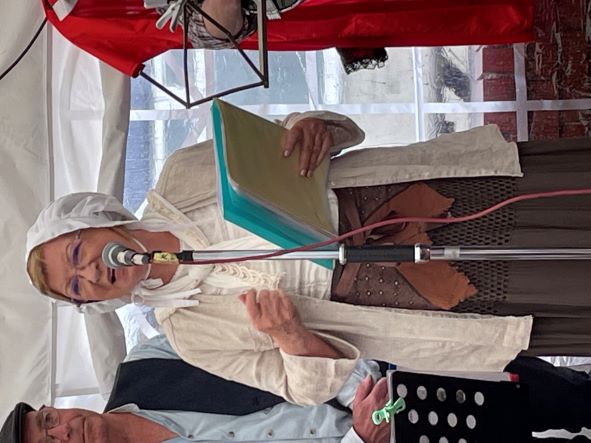 Day 2 Saturday Evening concert

This opened with the fantastic Mail Train playing to a well deserved full house.  They are a slick, talented, musically together group with a great sound and original songs.  We enjoyed singing along to their choruses, and I am sure they knew by the crowd participation and enthusiasm that they were appreciated big time. 
Then we had Demdykes Cat.  Karen Grandal-Park wowed us with her amazing voice with songs that were sung from the heart.  She was ably accompanied by Ava Greenall with fiddle playing that was sensitive and perfectly  attuned  to Karen's voice.  
Finally we welcomed back Cobalt Tales - Pat and Nuala.  We laughed a lot and listened to beautiful serious songs as well, accompanied by Pat on the guitar and Nuala on bass guitar and whistle.  We had lots of stories and reminiscences of Wigan and the 'We are the women' anthem brought the house down!  - AGAIN!  They were on top form. 
Well done and thanks to all of you for making our concert such a success.  Thanks to Mervyn Rimmer for the great sound and to Ken who was a great MC and managed to put this lineup together.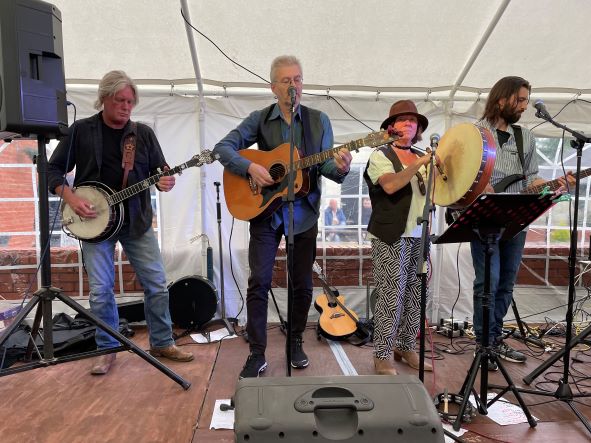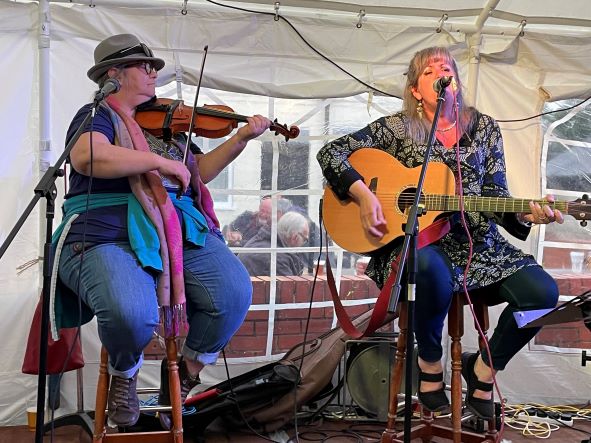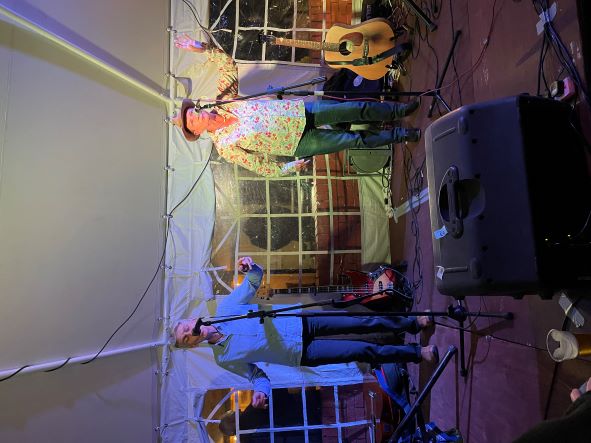 Saturday 3 Sunday Afternoon - Open Mic

We had a total of 22 artists which became another great concert.  Thanks to Ken for being MC, and to Mervyn who provided the sound (not easy for so many artists) and was so patient and running over time to ensure everybody who wanted to perform did.

Day 3 Sunday Evening Concert

This was a colourful and lively occasion.   The tent swayed to the music on Saturday night, tonight it just rocked!

Bad Grandad is a magnificent guitarist and demonstrated this throughout his set.  His songs were varied and well delivered with plenty of humour - 'Privateers, Diddleloldladyo, my brain', and finished with his brilliant version of the Sultans of Swing.   He fully deserved this solo spot and got a great reception.
The Pauline Blackburn Band turned up the tempo.  Bad Grandad continued his wonderful guitar skills.  Steve Winstanley made his amazing 5 string, no fret, bass guitar  just sing up and down the fretboard - he is another guitar whizz.  Bill Helsby complimented them with fantastic drum/percussion playing.  The star of the show was Pauline herself with her amazing voice and  guitar.   Her backing group of musical wizards just lifted her singing of her self penned songs to another level.  'Ride on' and 'Old Cobble Lane' were just amazing and Pauline should have been very pleased with her performance and the audience reaction.
The A D Cooke 5 piece band then turned the tempo up a few more notches with a drummer, a bass guitar player, two backing singers - Netty Hunter playing a tenor ukulele and melodica and Lee-Anne Jones playing mandolin, and finally A D herself playing guitar.
This was a colourful, lively, up-beat set full of humour,  with Andrea fronting the band telling stories and singing her own songs.  Netty and Lee-Anne complimented her amazing voice with wonderful instrumental and vocal harmonies.  This was a dynamic  and entertaining performance and their enjoyment of doing it was very obvious.  Their smiles were infectious as they had us bopping along and joining in with laughter and song.  They are a very together group and were just brilliant.  This was a fitting end to an absolutely wonderful  weekend of live music, friendship and camaraderie.  Thanks to everybody who made it happen and to everybody who came.  These festivals are just getting  better.
Maria Regan