Goodbye and Rest in Peace our good friend AlbertDiane. xx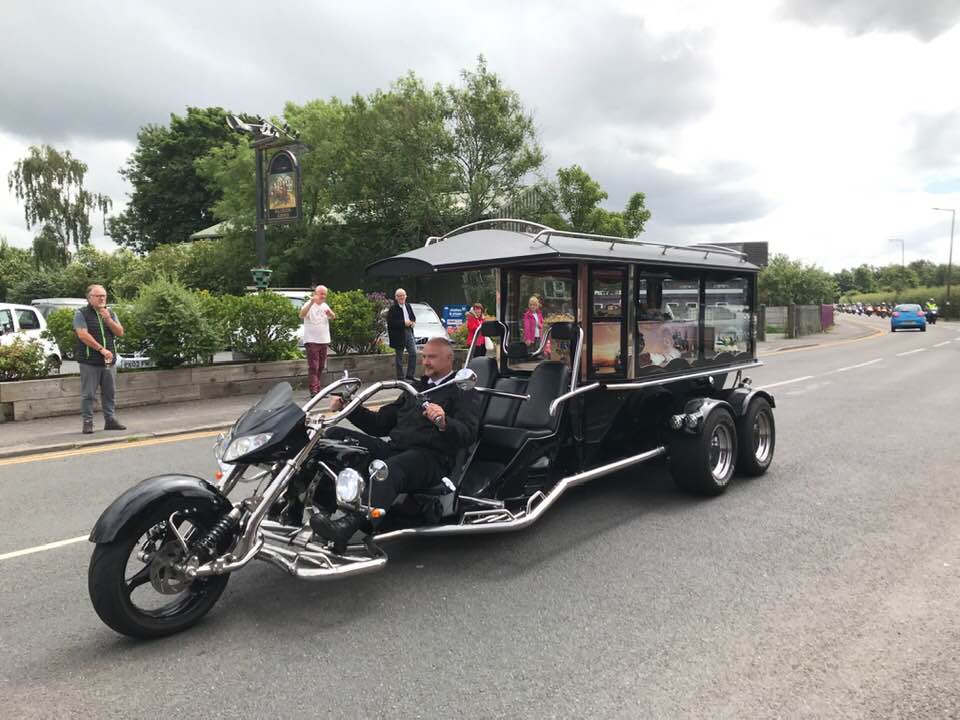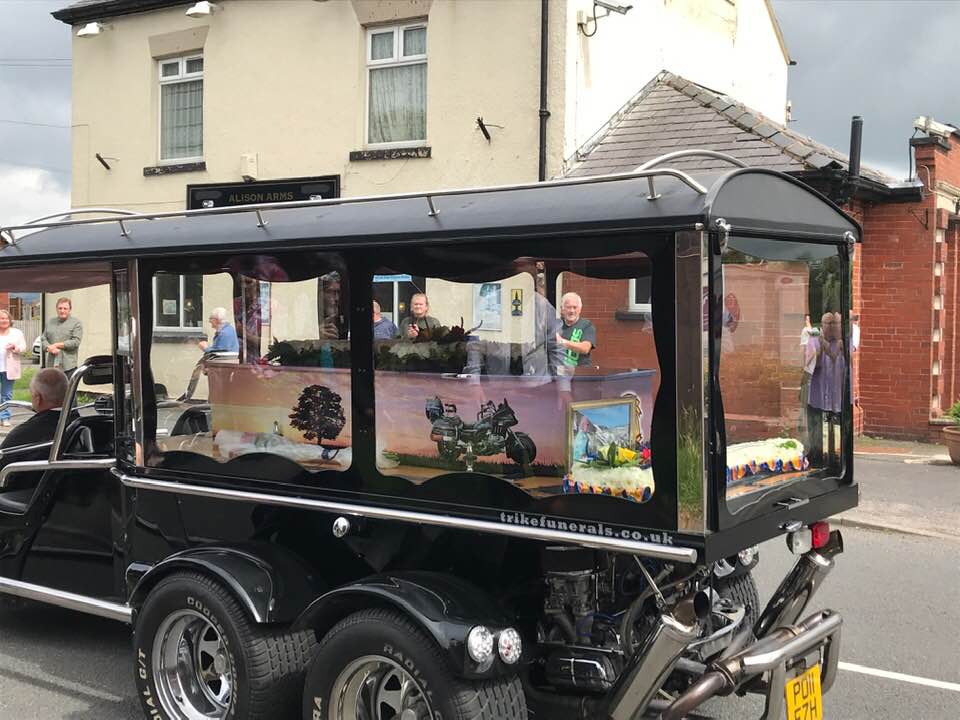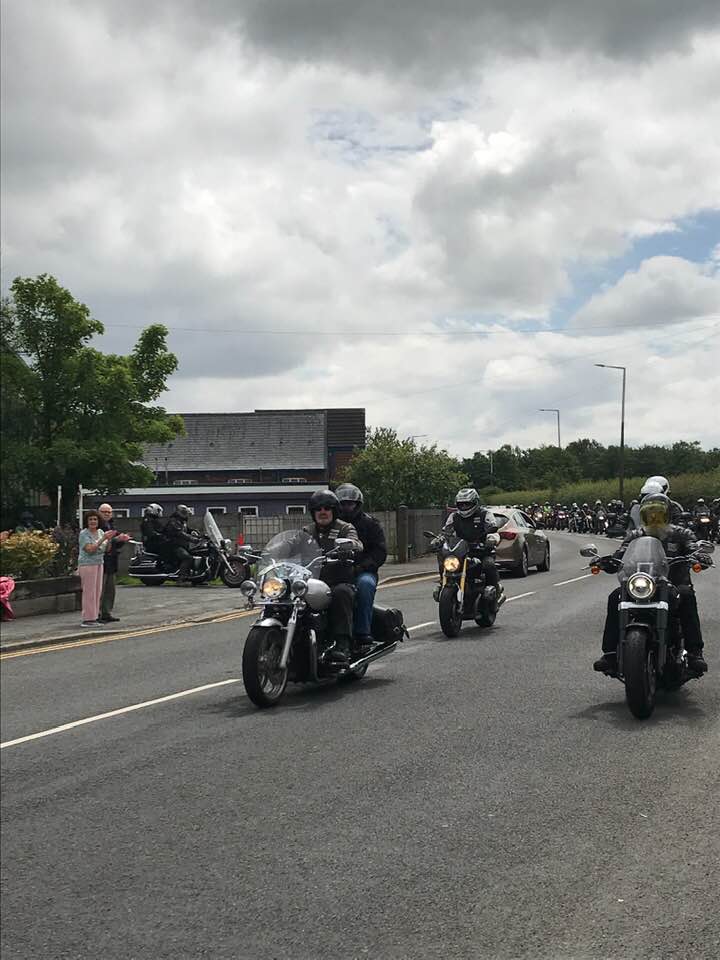 A Tribute to Albert - Pete Southworth
Who would help anyone with their problems
They travelled the land with guitar and voice they would sing
That beautiful blue Honda goldwing
Pete Southworth.        June 2020
Our dear friend Albert passed away peacefully on Friday 26 June.   
Albert had a zest for life, and living, and fun and we will all miss his jokes and patter.   Our folk club and festival will never be the same without you Albert.  You will be missed big time.
Our deepest sympathy to Diane, Alex, Haley and all your family.  Like you, we all have many fond memories.
May Albert Rest in Peace.  
FOR ALBERT
Was he man or Greek god?
That head looked more in keeping
with Michaelangelo than Wigan.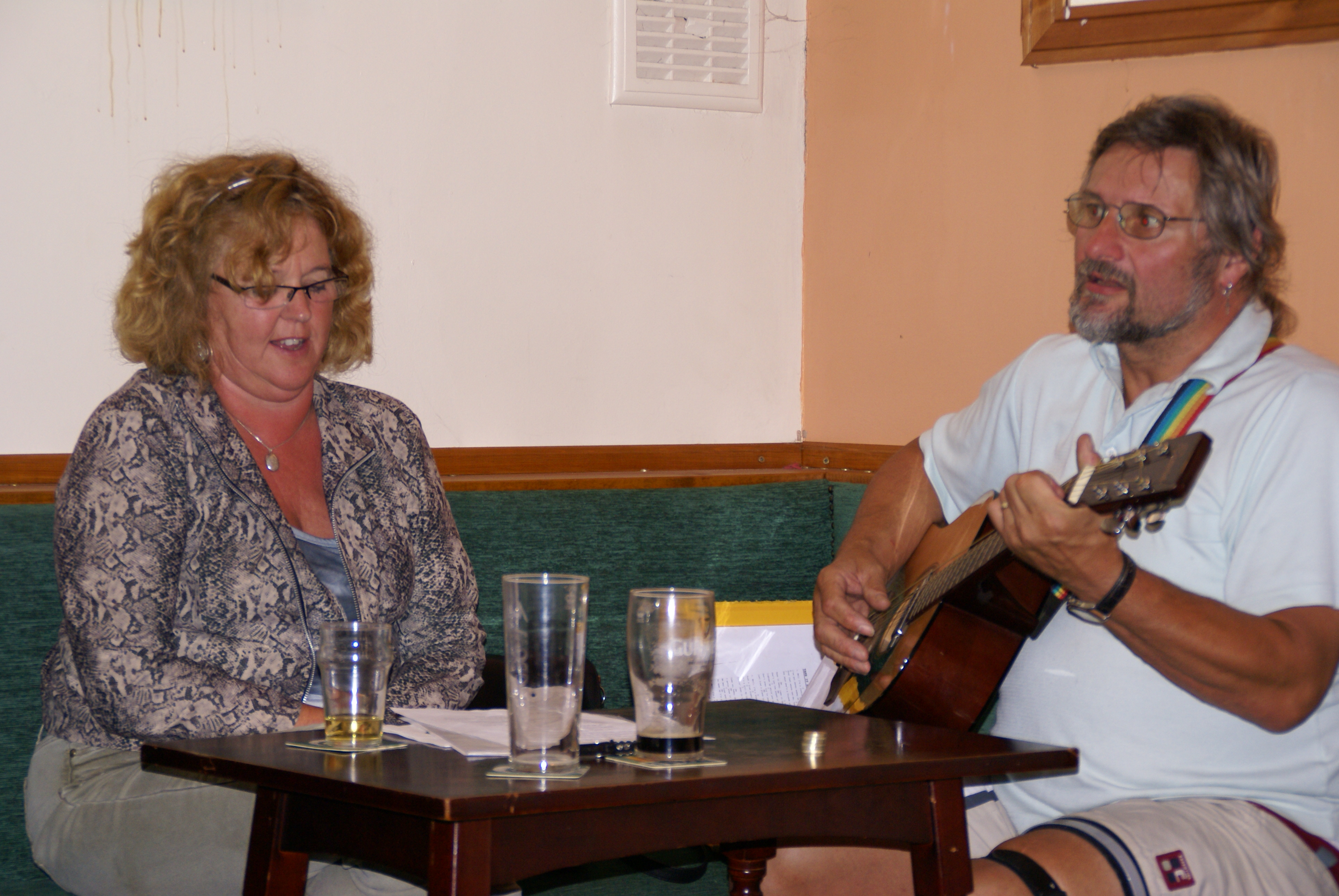 And what of the laugh,
the twinkling, mischievous eye,
the beguiling accent?
An accidental Odyssius,
wrecked on the shores of time,
reincarnated in Wigan.
A complex character, full of contradictions.
Was he angel or hell's angel?
Sometimes even he didn't seem to know,
although he seemed to carry a wealth of wisdom
picked up in the school of life.
Turned his hand to most things.
Only one Achilles heel - his singing voice,
and even that grew on one over the years.
Always a big presence, a people person,
an amiable companion.
What better epitaph for any man?
Phil Regan   June 2020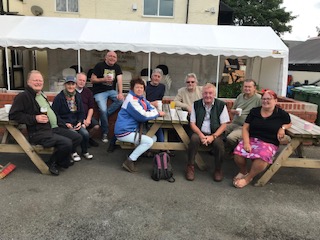 FESTIVAL 2019
To all the supporters of Coppull Folk Festival from the Folk Clubs, Sessions and open Mic's.
Owing to the uncertainty of the lockdown and the upheaval in the pub trade over the corona virus and government policy, the Coppull festival committee and the Alison Arms management have had no choice but to postpone the 2020 festival until further notice. We have been hanging on in hope but feel there is too much uncertainty in this present climate. Thank you for supporting us over the last 23 years hopefully we will contact you when the festival has the go ahead. In the meantime stay safe follow the guidelines and hopefully we will all meet when this pandemic is over.
Love and best wishes to all our musical friends
Ken Scally, Maria Regan, Phil Regan and Kevin Brady
SINGAROUND ON WEDNESDAY NIGHTS CANCELLED
16 MARCH 2020
Due to the Goverment directive this evening, we regret to have to inform everyone
that the sing around at the Alison Arms will be cancelled from now until further
notice. Be safe. Maria and Phil.
The free folk festival at the Alison Arms, will be on
Friday 12, Saturday 13 and Sunday 14 June 2020.
Thank you to all of you who supported our fundraisers and raffle  to enable this free festival to happen.  Thank you to Mavis and Ron who allow us to use their premises for the weekly sing around and the festival weekend  We have a fantastic line up of artists and look forward to seeing you all at this popular event.  More information re: our artists will be in the Festival 2020 section of this website SOON!
Friday 12th June
 7.45 -  8.45 pm       Copperfaced Jack
 9.00 - 10.00 pm      The Pelican Babies
10.15 -11.15 pm       Rare Old Times
Saturday 13th June
Guitar Workshop
12.30 -1.30 pm        Bad Grandad's (Dave Gaskell) Guitar workshop
Afternoon Showcase
 1.45 - 2.45 pm        Young Performers Showcase with
                                              The Wigan Open Mic Group
 2.45 - 4.15 pm        The March of Peterloo -
                               written by Ken Scally and Lawrence Hoy
                               with  The Wigan Music Ensemble
                               (Ken Scally, Lawrence Hoy, Tim Marris,
                               Bernard Cromarty, John Pearson, Sheila Hinds,
                               Steve Higgins, Dave Gaskell,
                               Lish Kay Murray, Jon Peet)
Evening
 7.45 - 8.45 pm         Mail Train
 9.00 - 10.00 pm       Dandelion Train
10.15 - 11.15 pm      The Gestures
Sunday 14 June
Afternoon
   2.00 - 4.30 pm        Mega Open Mic
Evening
  7.00 - 7.40             Bad Grandad
  7.45 -  8.45            Kim and Wayne
  9.00 - 10.00           The Andrea Cooke Band
Sound supplied by Bill and Lesley Sproson of Westminister Sound Engineering, Leyland
Folk sessions in the bar Friday, Saturday and Sunday until late.
REVIEW OF BRAM TAYLOR BAND CONCERT
Well we had another great music night last night at the Unity Club, Standish. Thank you to all our guest artists. Pete Southworth opened the concert with some great Dylan and Donovan classics and lovely self penned song about his childhood which we all could relate to. The Pelican Babies - Lee Nixon and Mark Connell, treated us to a delightful set of mixed classic and self penned numbers with slick voice, harmonica and guitar harmonies. Playing the didgeridoo and singing was an talent in itself. The Bram Taylor Band - Bram Taylor, Nick Peak and Dave Howard delivered a set with warmth and energy, and created a marvellous musical blend which was complimented by Bram's rich and melodious voice and humorous asides. His closing number 'DejaVous, next time around' was an apt end to a great night. Dave Gaskell was our sound man and put his heart and soul into making sound excellence. Dave has always been stalwart supporter of our festival and we are always grateful for his help. Thanks to Dave, to all our artists, to you the wonderful audience who came to support us, to those of you who sold tickets and donated raffle prizes, and to Ken Scally who masterminded the whole concert. We can now look forward to the Free Coppull Folk Festival 12,13 and 14 June 2020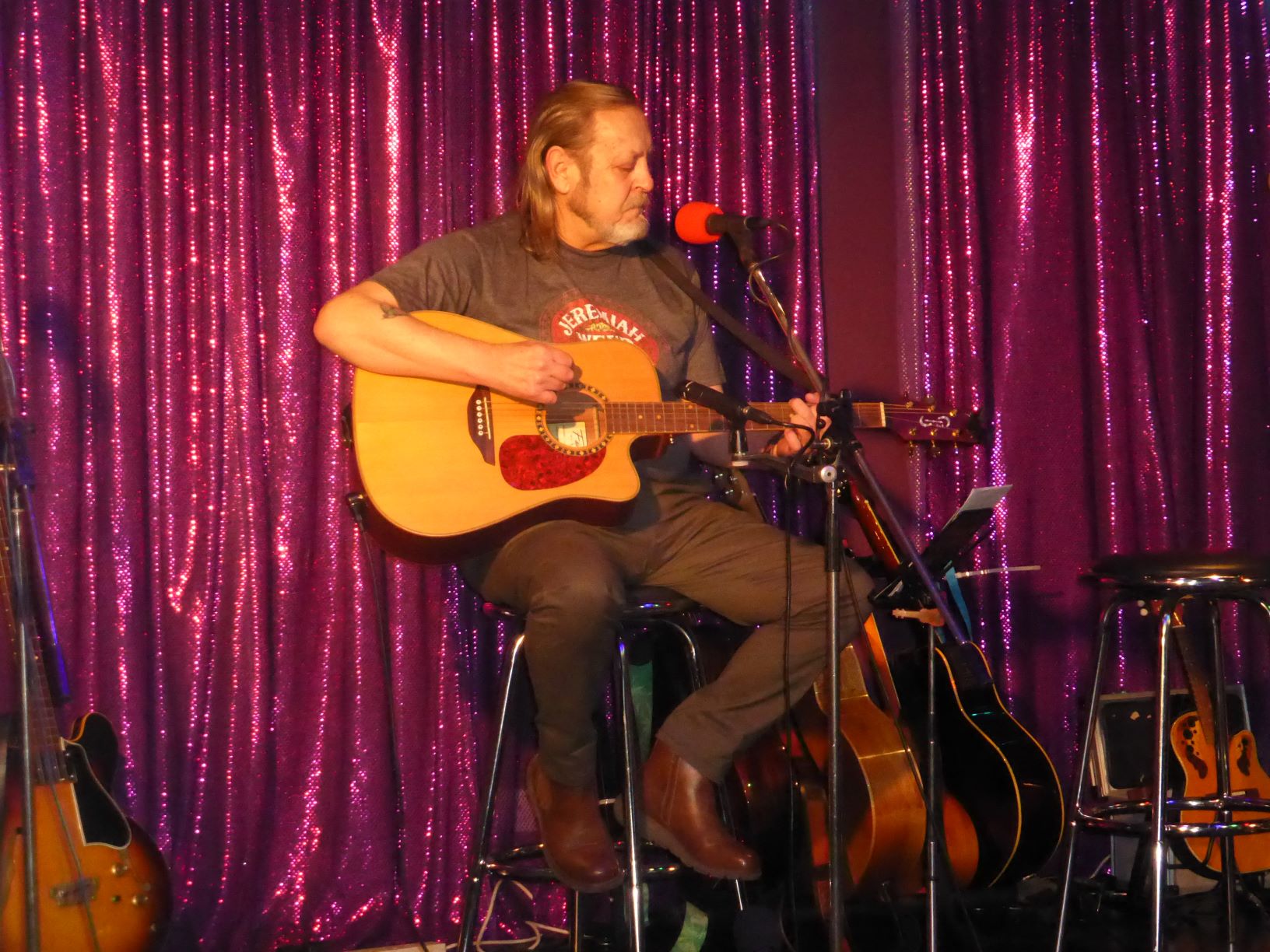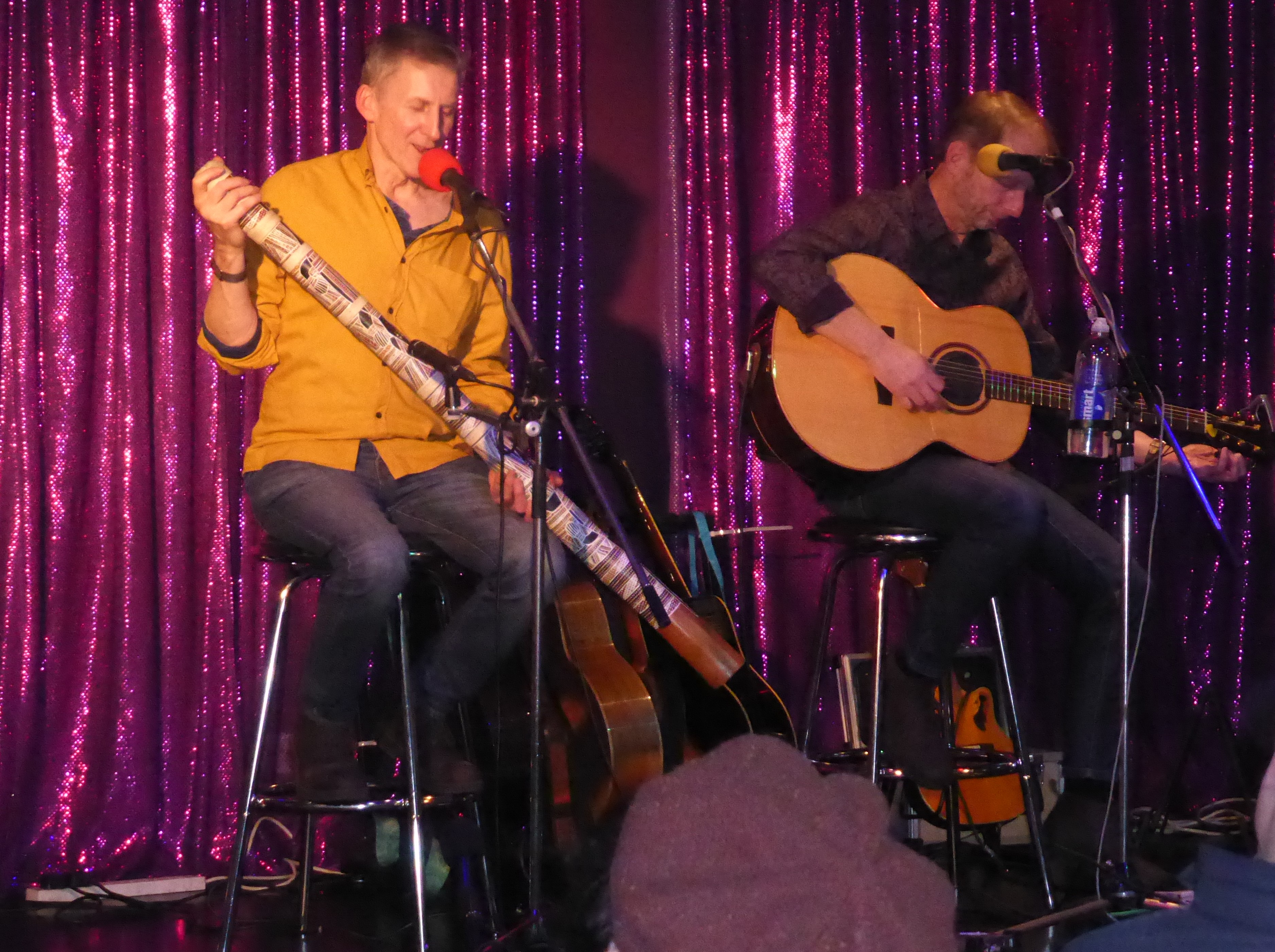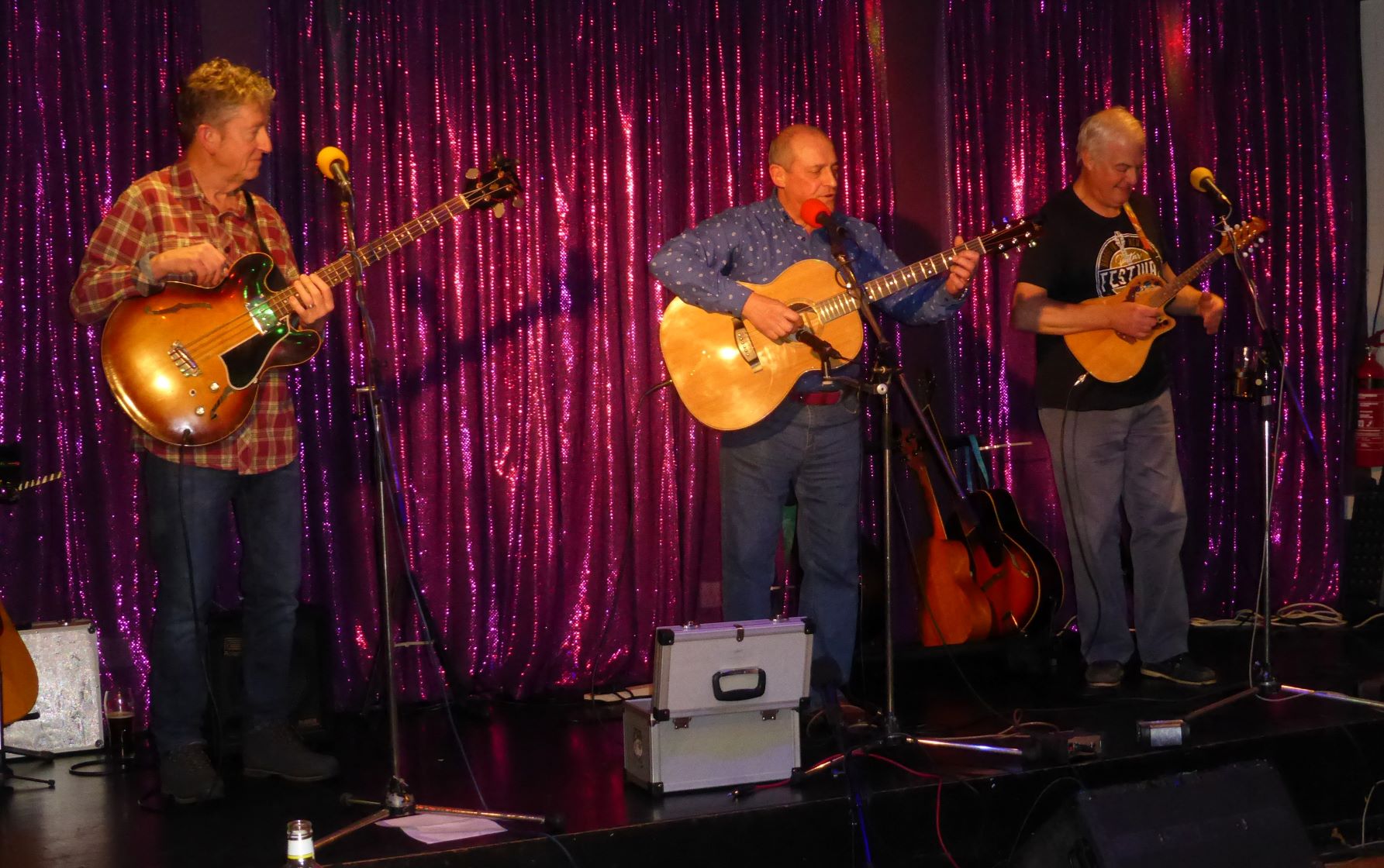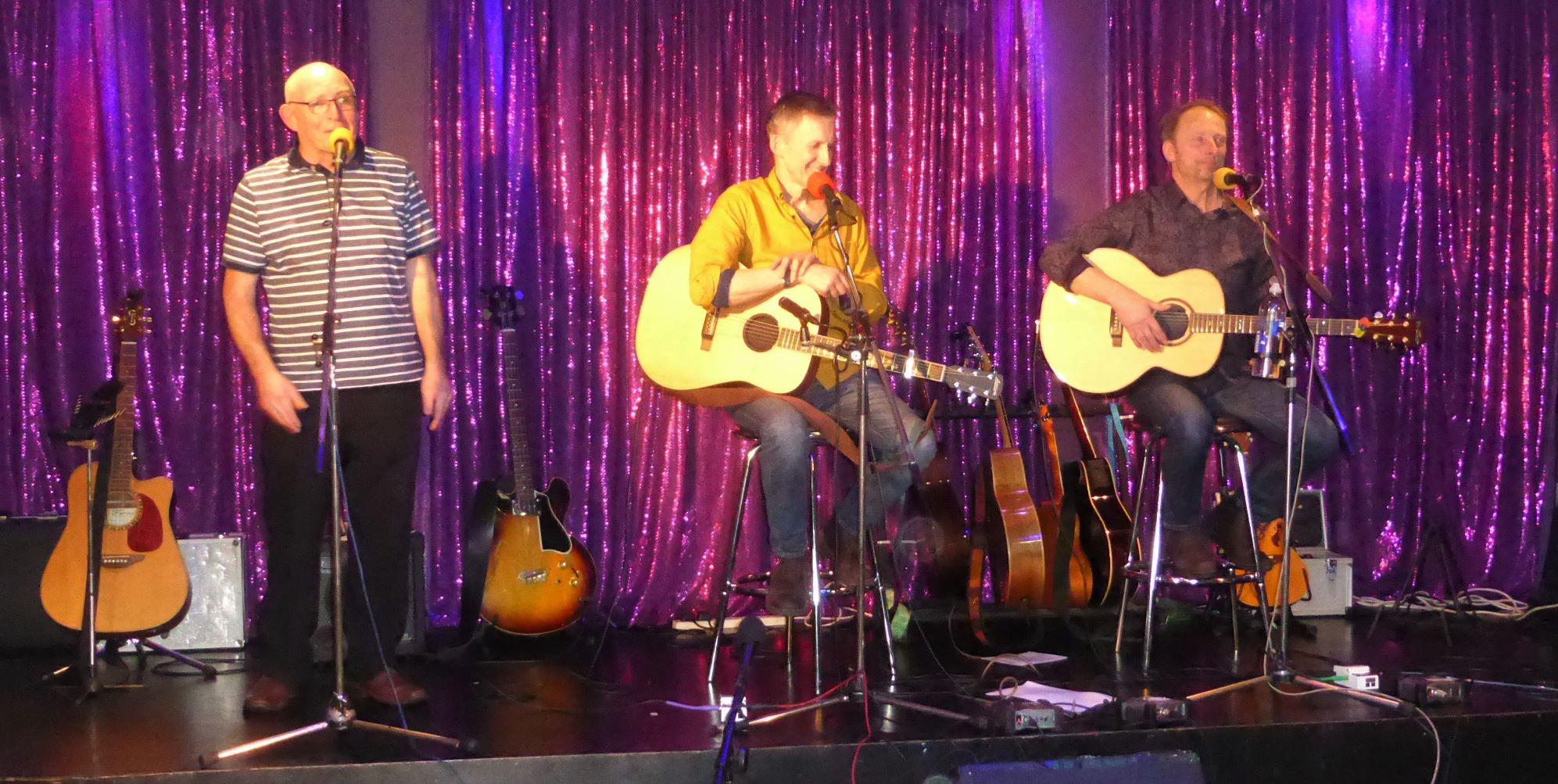 MERRY XMAS AND A HAPPY AND HEALTHY 2020
The Singaround at the Alison Arms will not take place on
Wednesday 25 December 2019 or Wednesday 1 January 2020
FESTIVAL 2020 DATES ARE 12, 13, 14 JUNE 2020
Next fundraiser concert is The Bram Taylor Band on Friday 7 February 2020 at the Unity Club, Standish.  Admission £6
REVIEW OF KEN NICOL AND KIM AND WAYNE CONCERT
Wayne Connah and Kim treated us to an hour of wonderful singing, harmony and guitar playing last night. They captivated the audience with their varied set ranging from folk to blues to jazz and deserved to be sharing the stage with the amazing Ken Nicol.
Ken is just a guitar genius and did many instrumental tunes that sounded more like a trio than a solo performance. His songs were varied with a strong rag time influence. Wendy accompanied him with two tunes and we had a few ukulele specials.
Central to this evening was the sound man Dave Gaskell aka Bad Grandad. Every word and every guitar note was perfectly clear from both acts. Thank you all for providing such a high class music night and helping us with our fundraising.
Thanks to the appreciative audience and to Ken Scally and his team for making it happen.
Congrats to the winners of our Xmas draw. The £100 went to Lancaster and the hamper will make its way up to Scotland! The third prizes went locally.