BRAM TAYLOR BAND FUNDRAISER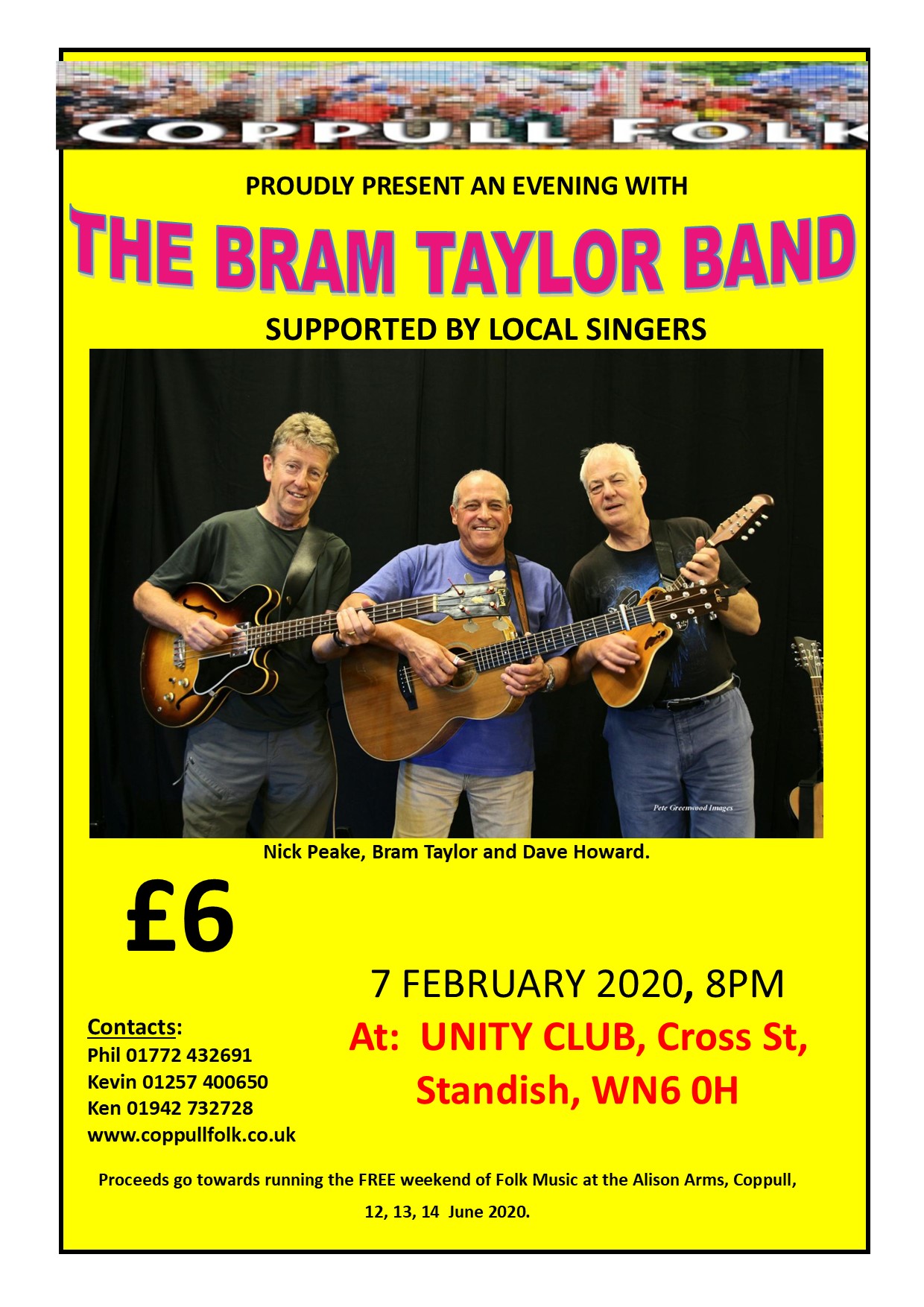 MERRY XMAS AND A HAPPY AND HEALTHY 2020
The Singaround at the Alison Arms will not take place on
Wednesday 25 December 2019 or Wednesday 1 January 2020
FESTIVAL 2020 DATES ARE 12, 13, 14 JUNE 2020
Next fundraiser concert is The Bram Taylor Band on Friday 7 February 2020 at the Unity Club, Standish.  Admission £6
REVIEW OF KEN NICOL AND KIM AND WAYNE CONCERT
Wayne Connah and Kim treated us to an hour of wonderful singing, harmony and guitar playing last night. They captivated the audience with their varied set ranging from folk to blues to jazz and deserved to be sharing the stage with the amazing Ken Nicol.
Ken is just a guitar genius and did many instrumental tunes that sounded more like a trio than a solo performance. His songs were varied with a strong rag time influence. Wendy accompanied him with two tunes and we had a few ukulele specials.
Central to this evening was the sound man Dave Gaskell aka Bad Grandad. Every word and every guitar note was perfectly clear from both acts. Thank you all for providing such a high class music night and helping us with our fundraising.
Thanks to the appreciative audience and to Ken Scally and his team for making it happen.
Congrats to the winners of our Xmas draw. The £100 went to Lancaster and the hamper will make its way up to Scotland! The third prizes went locally.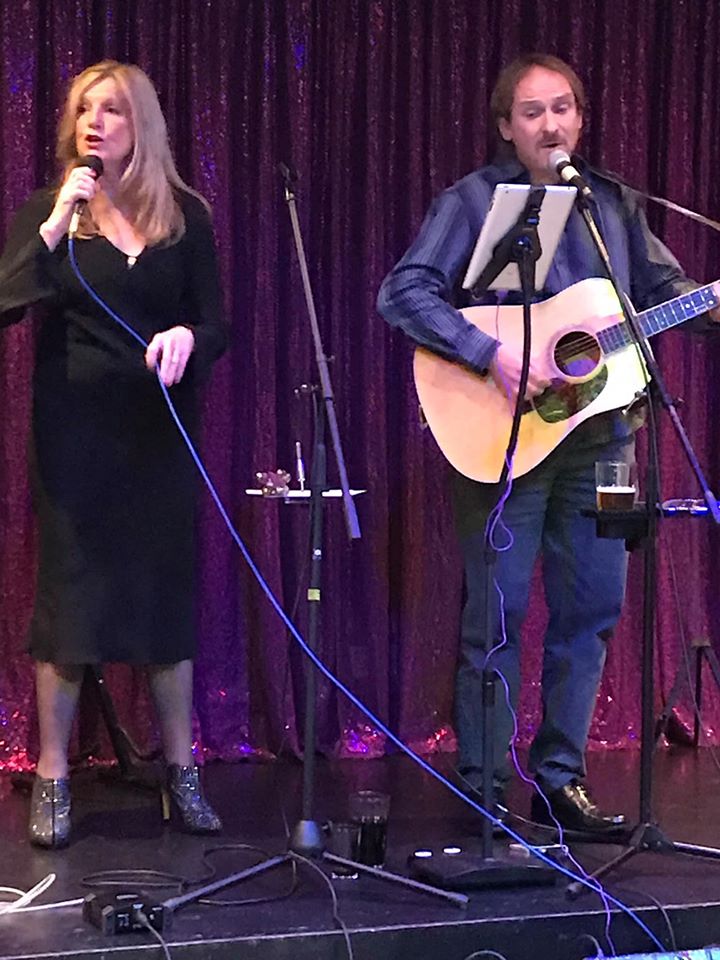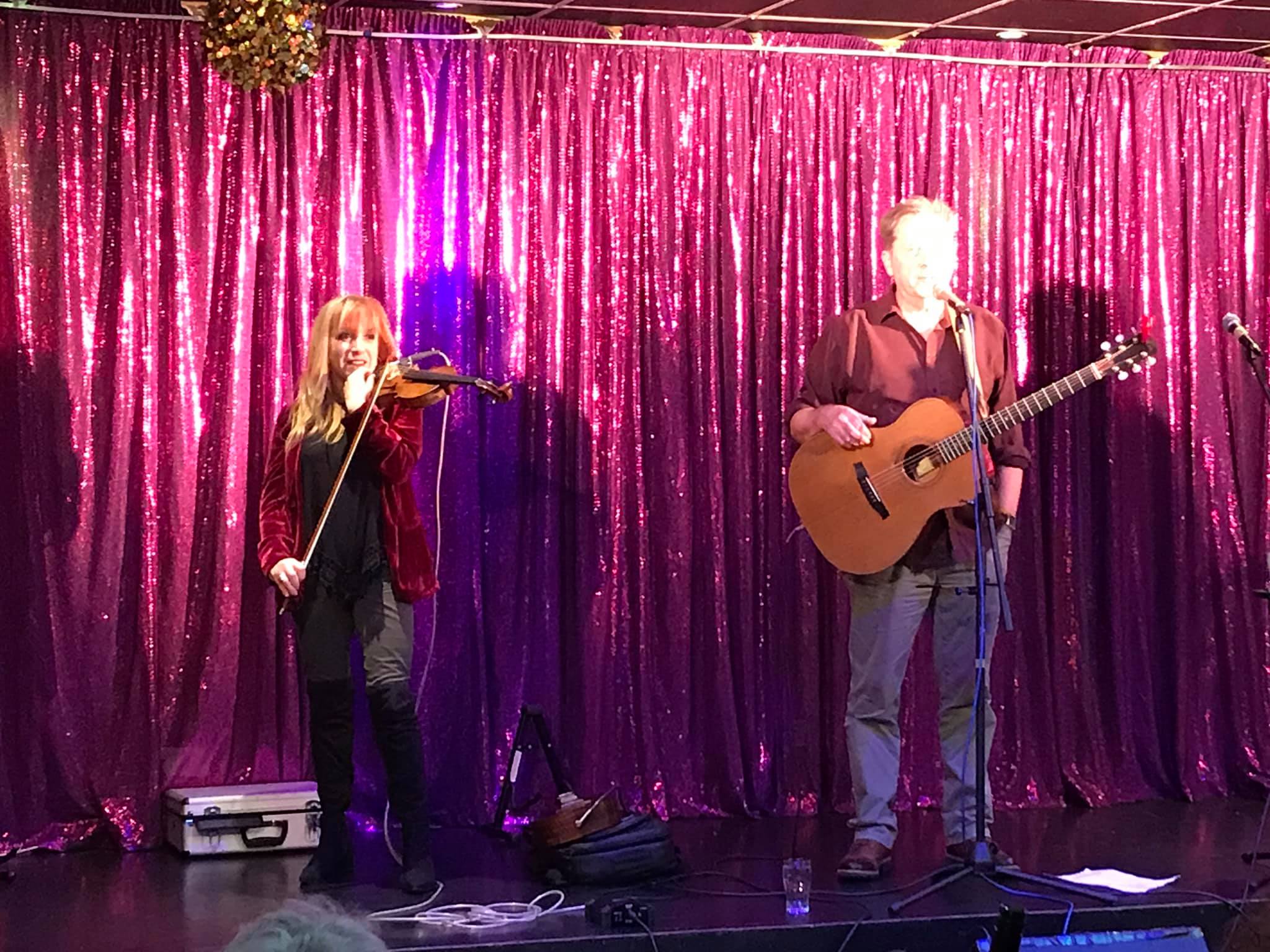 MAIL TRAIN AND DANDELION TRAIN CONCERT REVIEW
Ken Scally is a talented singer songwriter author, and a wonderful performer and entertainer. He opened the night dressed as the Fat (thin?) Controller with a selection of well known train themed songs, some with a Lancashire link.  Ken was also our MC for the night and introduced the first of our two local groups - Mail Train. 
Terry Bailey, Peter and Francis Moore and Jan Hough make up this innovative group.  Terry writes most of their songs and is a whiz on the banjo and guitar.  Peter plays the guitar, has an amazing voice and enhances the group with his amazing harmonies.  His son Francis is an innovative bass guitar player which along with the banjo keeps the background music rolling along.  Jan Hough, a seasoned all round entertainer adds to this musical ensemble with her amazing vocals, ukelele, guitar, bodhran and drum playing.  She even entertained us with a poem "Exterminate" in a strong Liverpudlian accent.  Together these experienced musicians make a great sound, varying the tempo and tone with combined instruments and voice, with different songs and tunes,  and we enjoyed their set very much.
Then came Dandelion Train.  This is another new group made up of mainly local accomplished artists - Steve Higgins, vocals, banjo and guitar, Gerry Kennedy, mouth organ and guitar, and Sue Kennedy, vocals, flute, whistle and drum.  They drew us in and wowed us with their musical virtuosity from the haunting flute to the amazing guitar work to the mouth organ with fast reels, as well as fabulous vocals from Sue and Steve.
This night of music was made possible by our sound controller, Dave Gaskell alias Bad Grandad.  Dave is an amazing musician in his own right and always a  great supporter of our club and festival.  It wasn't an easy job to manage so many instruments and voices all at the same time and make them sound so good.  You did a sterling job Dave, well done and thanks for your help.  
Thanks must also go to Ken Scally our Festival Organiser and MC and to Kevin Brady.   Between them, they promote all the concerts and sell tickets and do a sterling job.  Thanks to all the people who donated raffle prizes and to you the wonderful audience who turned up on the night to enjoy the lovely music.  Finally thanks to the artists who made the night possible.  You gave us an amazingly varied night of music and song and we all enjoyed it.  
Maria Regan 
MAIL TRAIN AND DANDELION TRAIN CONCERT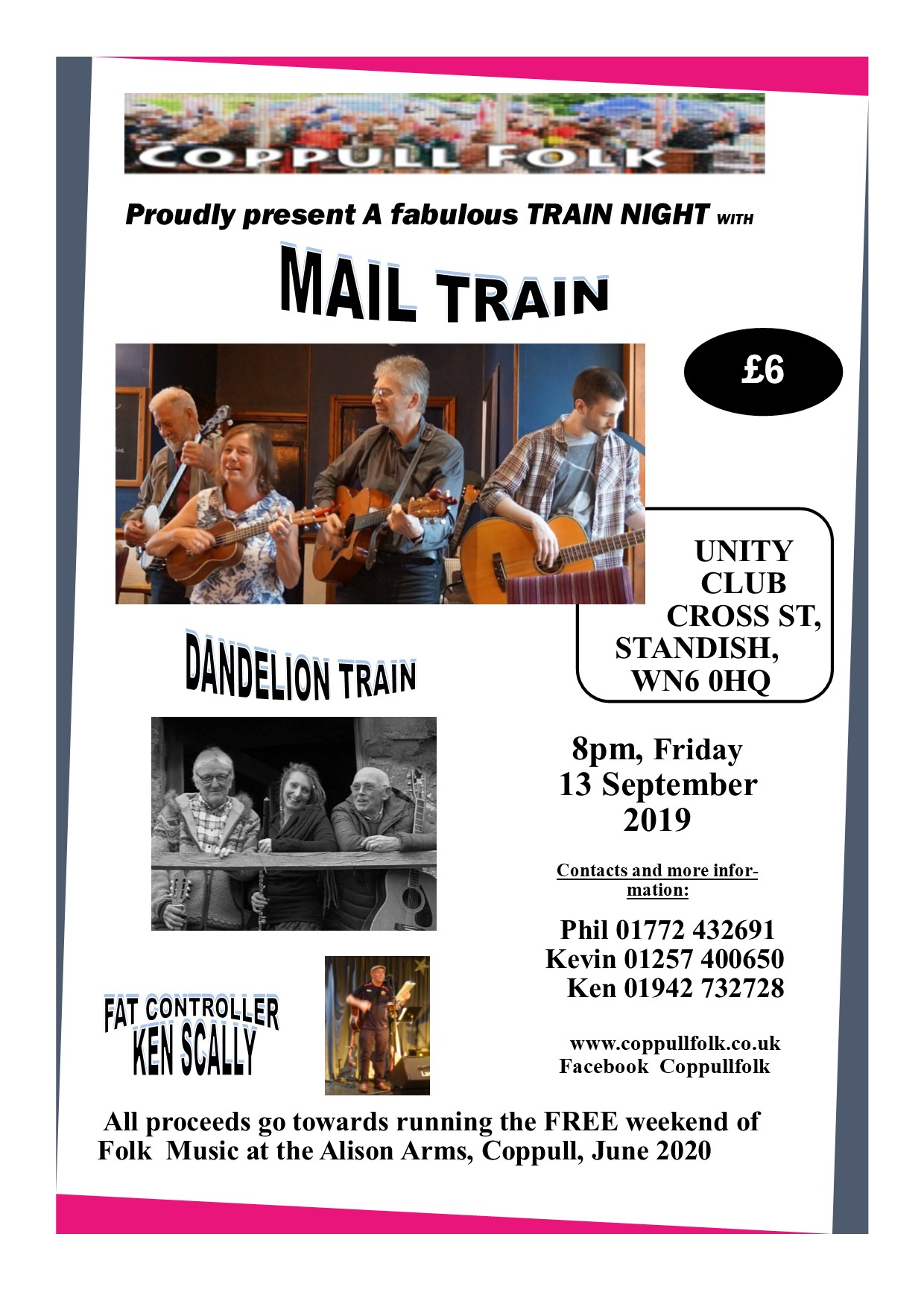 REVIEW OF COPPULL FREE FOLK FESTIVAL 2019
Friday night saw the gathering of the folk clan despite the lashing rain and cold. It was so good to see the tent full with many regular attendees and many new faces. At 8pm the Gestures burst into song and we were uplifted and elated, clapped along and sang along and forgot about the appalling weather outside. These four young entertainers with their lively delivery, good harmonies and great instrumentality were fun and just enjoyed themselves. They sang many well known singalongs like 'Mary Lou and American Pie' in between their versions of current popular songs. The audience immediately warmed to them and joined in with clapping g and singing, as their vitality was infectious! The combination of washboard, bass and acoustic guitars and ukulele worked. This young skiffle band were amazing and set the scene for what has been a wonderful weekend.
Bandersnatch had a hard act to follow but these four quality musicians delivered a completely contrasting set of upbeat music with numerous flashes of instrumental brilliance. The strong vocals from Ian and Ed, close harmonies, and a good choice of material gave us a varied set ranging from folk rock and blues to gentle ballads. Ed's delivery of 'the Broken Years' was very moving. Ian's guitar playing and singing was outstanding and used to great effect. Norman's bass and Dave's banjo playing and close harmonies, gave the lift to make the music just roll along seamlessly. Their music creativity keeps getting better and we were totally absorbed by their set. They were a class act.
Bill and Leslie did an excellent job on sound. Thank you to them and to the Gestures and Bandersnatch for a wonderful night's entertainment.
SATURDAY
Bad Grandad opened the Saturday afternoon concert with his excellent guitar playing and singing. Copper faced Jack entertained us with their amazing self penned topical songs which ranged from global warming to war and life. 'Beyond the Seas' penned by Lawrence Hoy was a lovely mixture of theatre and music performed by 6 well known artists in their own right - Bernard Cromerty, Bram Taylor, Tinker Dave Howard, Pauline Blackburn, Steve Higgins, Ken Scalley and Lawrence Hoy.
Cobalt Tales opened the Saturday night concert with a lively set of self penned well delivered songs which the audience loved. Nidd are a young trio that gave us musicianship at its best playing traditional music from Ireland, Canada and England interspersed with the odd song. Their warm delivery and musical excellent deserved the double encore. Thanks to Bill for proving the excellent sound and to all the artists who made Saturday such a great day. And, it's now stopped raining!!
SUNDAY
The Open Mic Session delivered some fantastic talent to a packed tent in the afternoon.
Pauline Blackburn treated us to a set of mostly her own work and a few songs her mother Joan (RIP) wrote.  She gave a confident and competent performance with her magnificent voice and strong guitar work.  Her songs were varied and reflected her caring pleasant personality, from the horrors of war, to love, to being carefree and close to nature.  She finished the set with two of her mother's favourites and delivered 'Old Cobbled Road' with poignancy – many of us were in tears.  She captivated the audience from start to finish with her warmth and sheer powerful delivery.
John Brindley lined the stage with a fiddle, piano, piano accordian and guitar and played all instruments with virtuosity throughout his set.  He took us on a journey of mainly self penned songs about his life and the love of his life – Mary.  These songs were sung from the heart and were so engaging.  He had all of us on board with his unique voice, clear diction, versatility, musicality and delivery.  John also sang requests such as the Galway Girl (accordian) Vincent (piano) and the Deportees (guitar) and at one stage played 8 Irish reels without stopping on his fiddle.  There were the usual off the cuff clever and funny asides.  The final song was Vera Lynns 'Till we meet again'.  So apt and so well delivered by a completely unique and accomplished performer.
Ken Scally said that his set was worthy of the highest stage in the land.  Susie Bird's comment was 'They were channelling a higher state'.  I think our audience would fully agree.  Thank you to Pauline and John for a fitting end to our festival 2019.
Thank you to Bill and Leslie Sproson for providing the excellent sound and the lovely fairy lights.  All artists commended them for it.  Thank you to Ken Scally who MC'd all weekend and who managed to get such a wonderful varied line up.  He has done a sterling job.  Thank you to the Coppull Team and helpers who worked so hard all year to raise funds to pay the artists, and who helped to set up the tent and take it down again.  Thank you to Mavis and Ron and their team who provided the venue, the second tent and stage, and  worked so hard to give us refreshments and food all day and night.  Thank you to all the people who supported our fund-raising concerts and raffles and donated raffle prizes.  Without you, this weekend could not happen.  Lastly thanks to all the lovely people who came to the Alison and provided the camaraderie and friendship that make this wee festival unique.  I think we can all say that FESTIVAL 2019 was a big success.
REVIEW OF THE GARY AND VERA CONCERT 2019
This was another great night of varied  entertainment.  The first act being the 'Coppull Folk Ceili Band' (Ken, Colin, Maria, Christine and  Phil), who played a set of Irish dance tunes - jigs, hornpipes and polkas.  Then 'Bad Grandad' treated us to a few requested songs accompanied by his amazing guitar wizardry.   Pete Southworth finished the first half with some singalongs that enabled the audience to join in.
Gary and Vera were amazing tonight with high class entertainment, singing and playing.  Their set followed the historical theme of the emergence of English Folk Music and we learned a few unknowns along the way - like the miners also had 'blues' type tunes which Gary decided to call 'Greys'.  His delivery and humour were brilliant and this new set is surely worth seeing.  Vera's harmonies were a delight and her musicianship on the accordion and guitar was a seamless backing to Gary's powerful commanding voice.  Vera did a wonderful solo of the Irish set dance 'King of the Fairies' on an English concertina which was a delight.  This talented duo are true entertainers and deserved the very attentive audience and the respect they have earned over the years. 
Thanks to Gary and Vera  for coming and giving us such a good night and helping to keep our little festival running.  Thanks also to Ken Scalley our MC, to Kevin who works so hard with fund raising, to the Coppull Ceili Band, and loyal supporters Bad Grandad and Pete Southworth.
It was such a pity that the evening was not well supported.  However you were a fantastic audience.  
We now look forward to the Festival on 8, 9 and 10 June.
BERNARD WRIGLEY CONCERT REVIEW
We had a fab night of music, laughter and craic last night.  Ken Scally gave us a varied set with Lanky and Irish songs and poems.  Jan Hough lived every song she sang -Day on the head! songs of life beautifully and competently  performed and acted.  She certainly knocked Valentine's Day on the head!
Bernard had us laughing from the start with his stories, poems' and funny songs.  It was a fab atmosphere.  Thanks to our guest acts, to and to all of you who supported our fund raising efforts.  It is very much appreciated.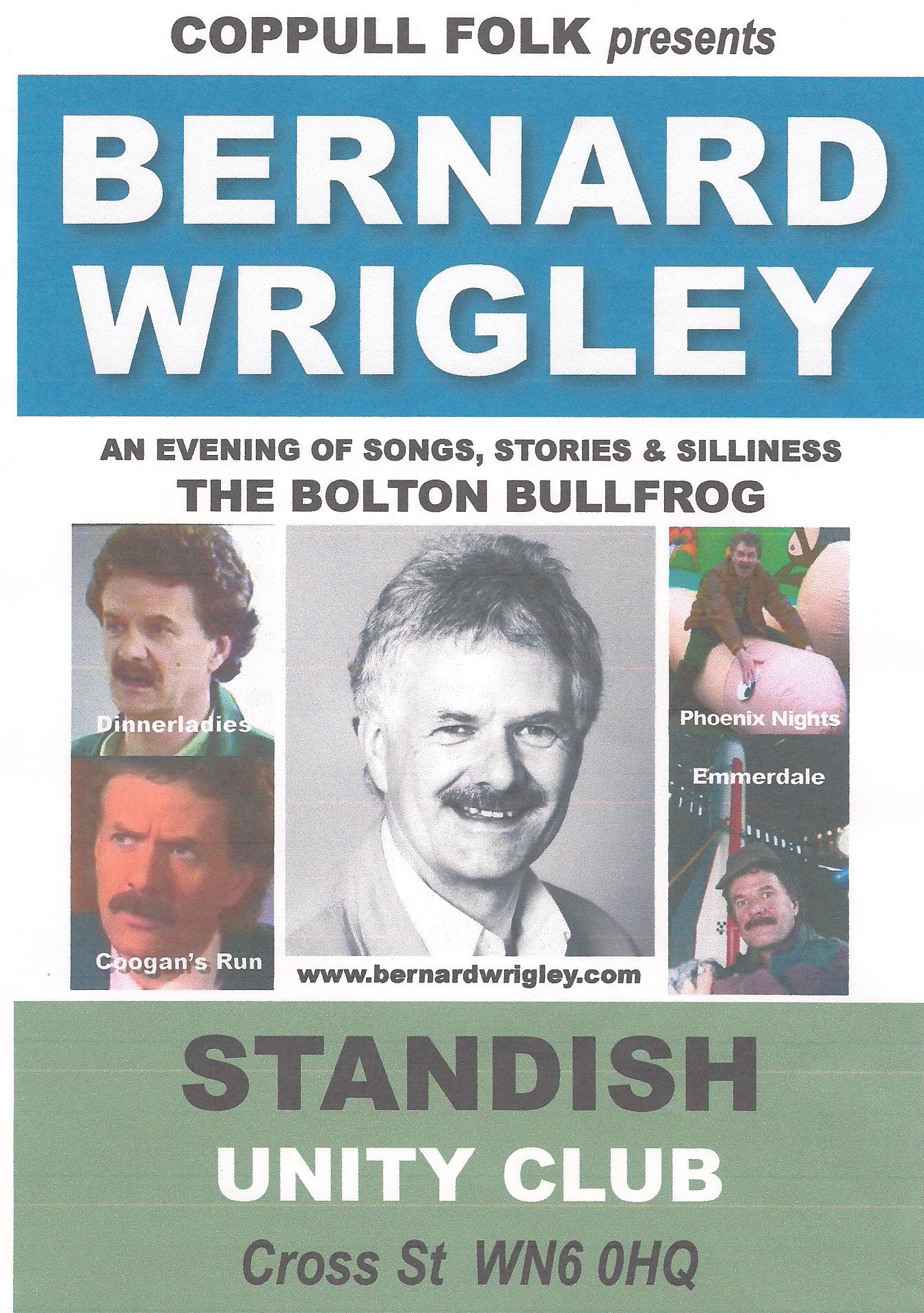 We look forward to welcoming you to our next fundraiser concert with Bernard Wrigley, supported by the amazingly talented Jan Hough and Ken Scalley.
FRIDAY 8 FEBRUARY 2019
UNITY CLUB, CROSS STREET, STANDISH, WIGAN, WN6 0HQ
8PM  
Admission tickets £8 can be reserved and picked up on the door.
Contacts:
Phil  01772 432691
Kevin 01257 400650
Ken  01942 732728
All Proceeds go towards running the FREE weekend of folk music at the Alison Arms, Coppull, 7,8,9 June 2019