LINEUP FOR OUR FREE MUSIC FESTIVAL 2017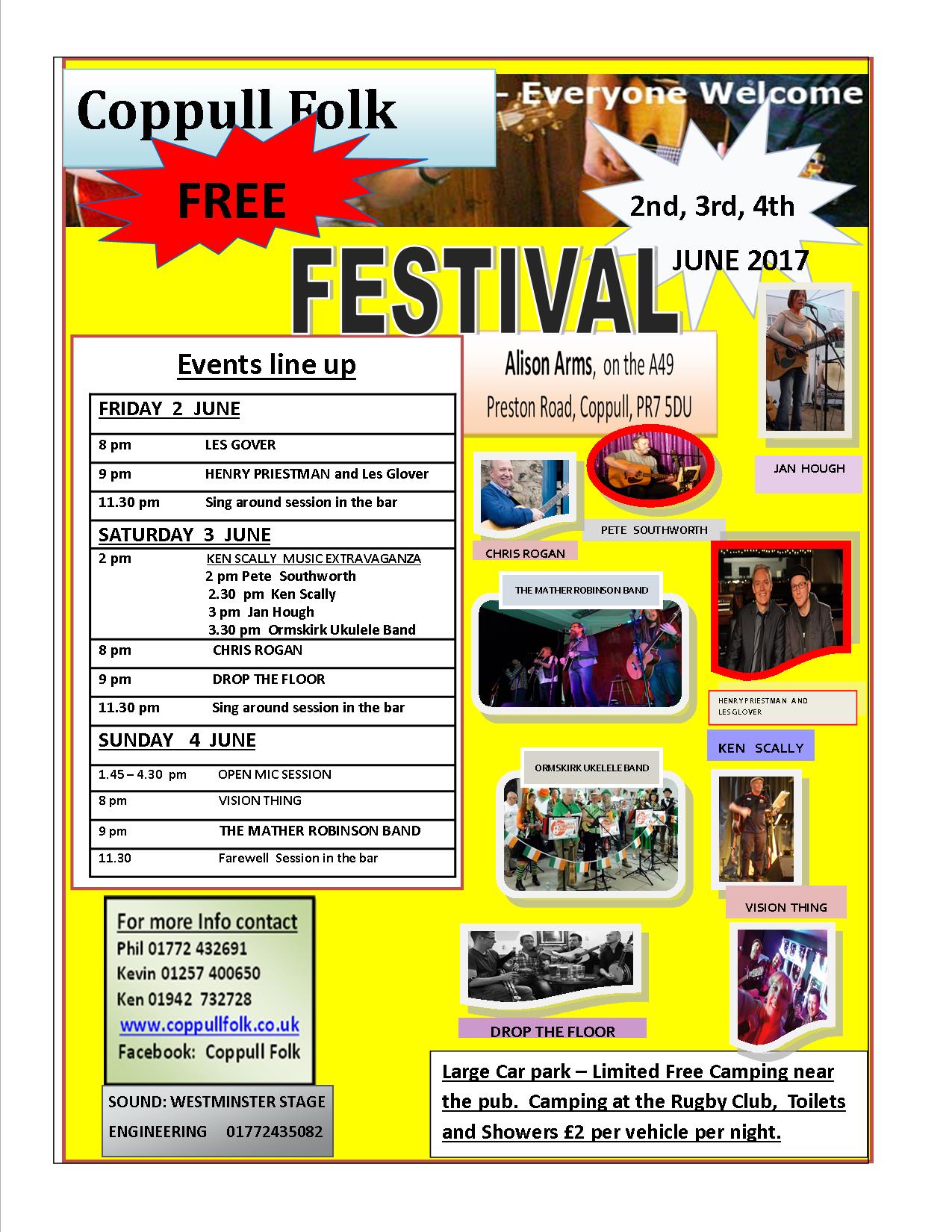 INFORMATION ABOUT ARTISTS
FRIDAY NIGHT 
LES GLOVER AND HENRY PRIESTMAN DUO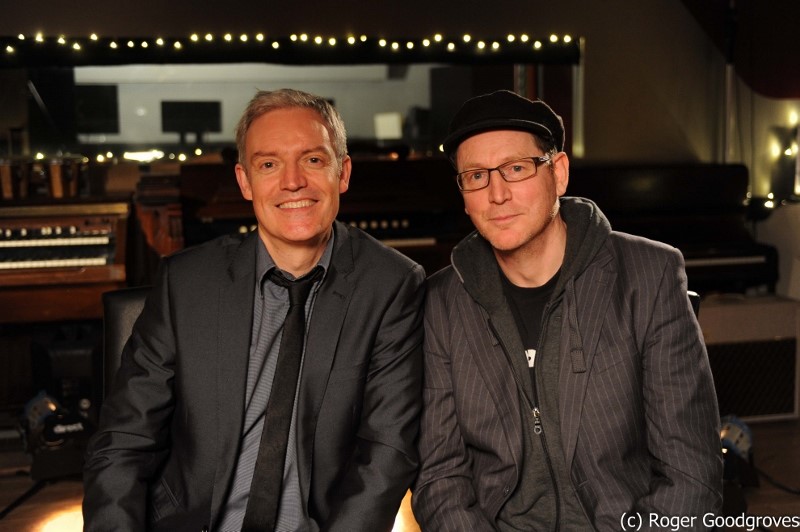 cv
Les hails from Liverpool and has  a great stage presence and is an excellent guitarist.   He has a wonderful repertoire of songs  and  we look forward to him opening up our Festival this year.  "Loved up Les, one man, a guitar, and a pile of great songs" – James Watt (BBC Radio Presenter)  'Men of a certain Age', "one of many enjoyable numbers on his debut album" – R2 Magazine.
Henry Priestman has been entertaining us by either penning great songs  ('Ideal World' and 'Words' are but two), during his time in the Christians or, since 2007 as a solo artist.  His two albums 'Settle Down' and 'The Last Mad Surge of Youth'  have got great  reviews. "…. he is a fine songwriter with an acerbic wit when it comes to his take on relationships, work, life and how some of us are getting slightly older but not quite ready for it yet…" Maverick.
"Henry and Les have great chemistry" – Graham Gouldman (10cc)  Together they produce a great music sound on various instruments  and with Henry's wit,  promise to give us a great first night.
SATURDAY AFTERNOON
KEN SCALLY'S EXTRAVAGANZA
KEN SCALLY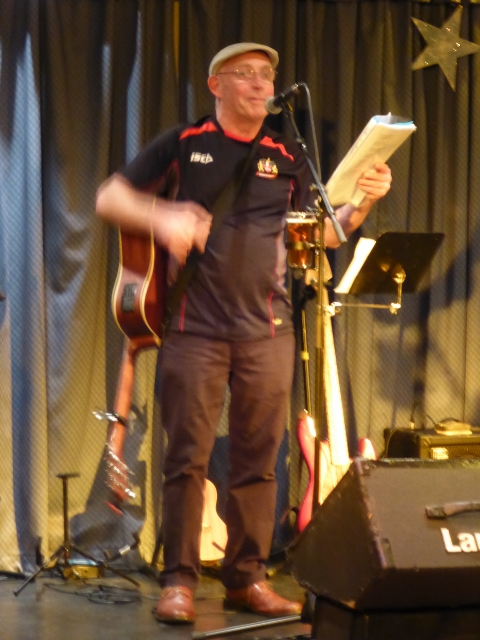 Ken has been a stalwart promoter of the festival for 6 years and is a very talented musician and all round folk singer. He specialises in traditional Lancashire songs, poems and stories, bringing them to life in his own inimitable way. Saturday afternoon is his spot where, not on does he do a great set, but he invites guests to grace the stage with a different theme each year. There is so much untapped talent in the Wigan area. Saturday afternoon will be as enjoyable as ever.
 PETE SOUTHWORTH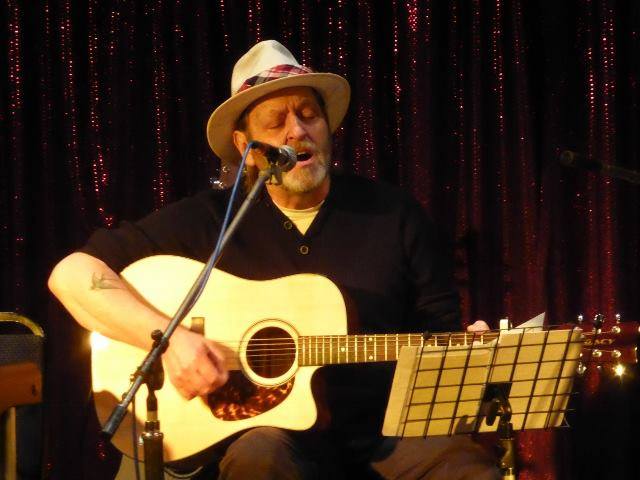 Pete is  one of our regulars at the  weekly singaround at the Alison  Arms, and pens many thoughtful topical songs  about life and places.  He is still in the process of making his CD which will contain many of his interesting songs.   Steeped in the 60's protest singer style, his songs sometimes take on an older old time country feel with a lovely laid back style.  He has a very clever way with words.
 JAN HOUGH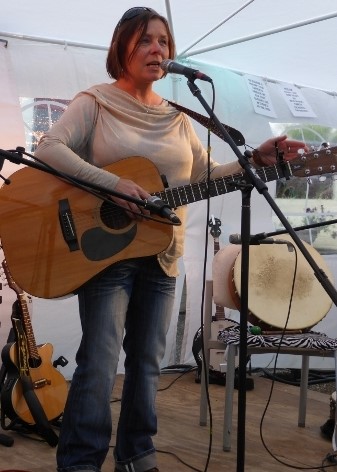 Jan is another prolific singer/songwriter.  She is highly entertaining and very talented versatile musician featuring guitar, ukulele and bodhran.  She believes in magic and loves the moon and stars and wild animals, plants, flowers, bees, etc and is always looking on the bright side of life and nature.  So watch out for some unusual humorous songs and our only female performer this year.
THE ORMSKIRK UKELELE BAND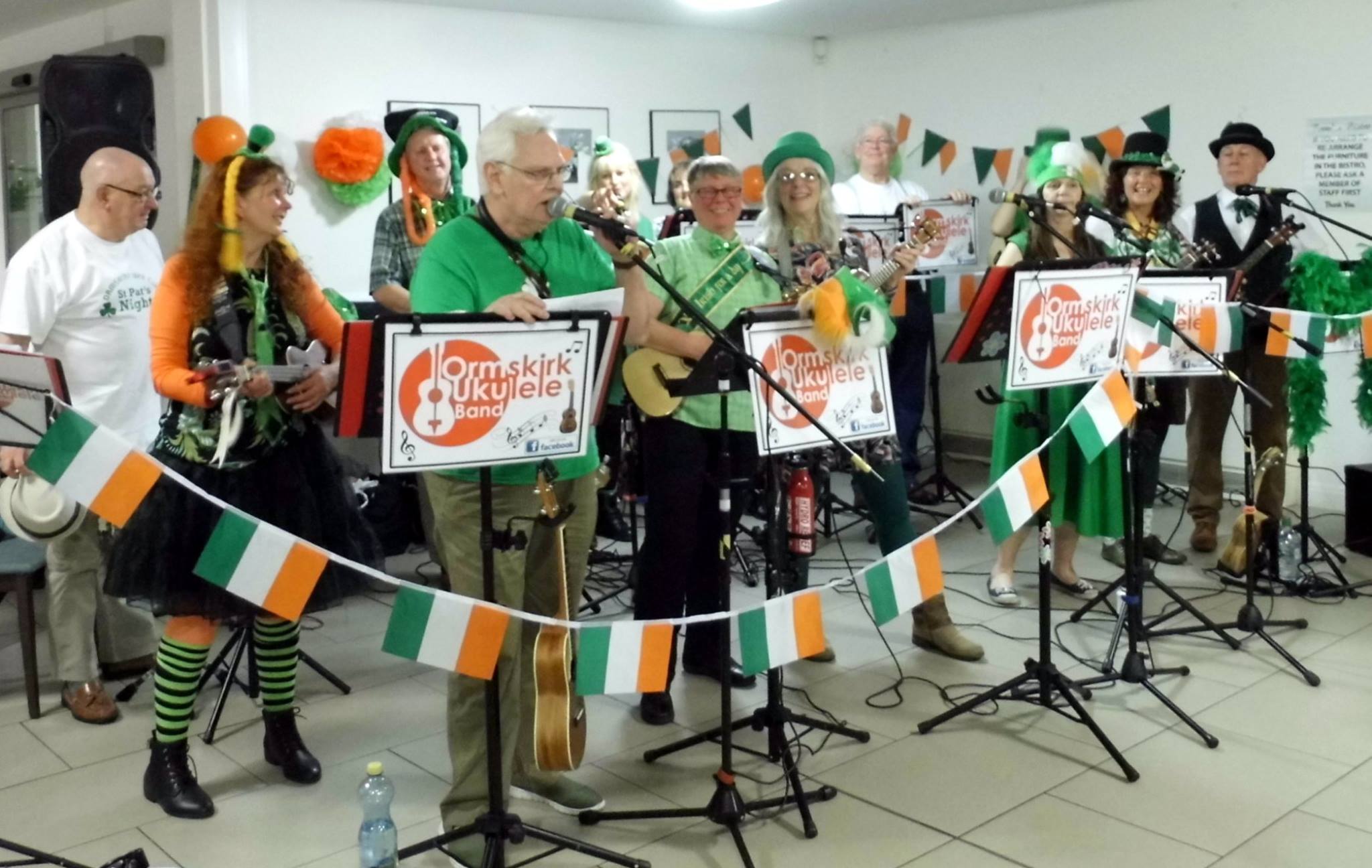 This band are a lot of fun.  They love dressing up for the big occasions and entertain with a wide repertoire.  They are well received wherever they go  and should end the Saturday afternoon concert with some tunes for us to sing along to.  This is their first visit to the festival and we look forward to them very much.
SATURDAY NIGHT
CHRIS ROGAN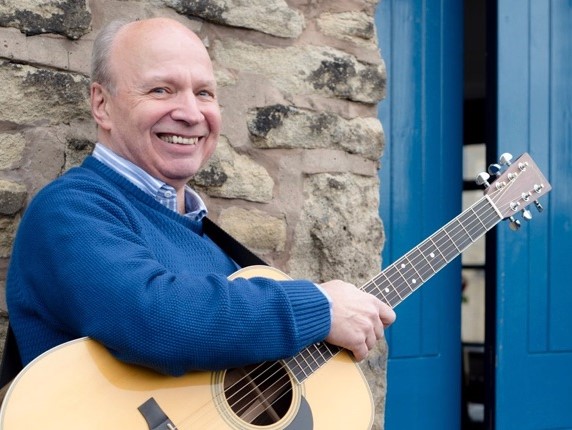 Sounds of Folk's Ali O'Brien describes Chris as "the kind of voice you could just listen to for hours" whilst Folk North West said "a master songwriter and performer". His songs tell the story of the people and things around him in a very easy, touching style. After a gap of several years, Chris has returned to the folk circuit.  He has an engaging stage presence and will have you singing along in no time. His Two cds WHERE FANTASY FLIES and  SET MY DREAMS FREE have had great reviews and his third CD is about to be released. 
 DROP THE FLOOR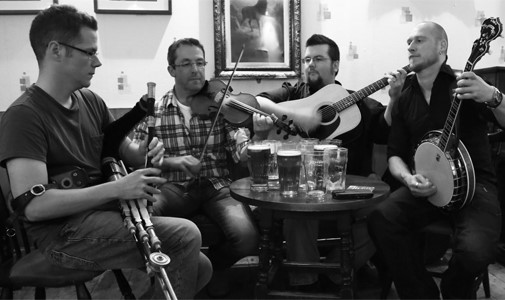 DTF are a four piece vocal and instrumental group based in Clitheroe, Lancashire. Firmly routed in the traditional music and songs of Ireland but also taking from Scotland and Lancashire, the band features Steven Johnston on Uilleann Pipes, Martin Baptie on Fiddle, Richard Moss on Guitar and Vocals and Daniel Burke on Tenor Banjo.  All musicians are virtuso in their own right and Richard Moss (who also does solo gigs) blends his vocals to their vibrant musical set.  Be prepared  to be wowed by this music.
SUNDAY NIGHT
 VISON THING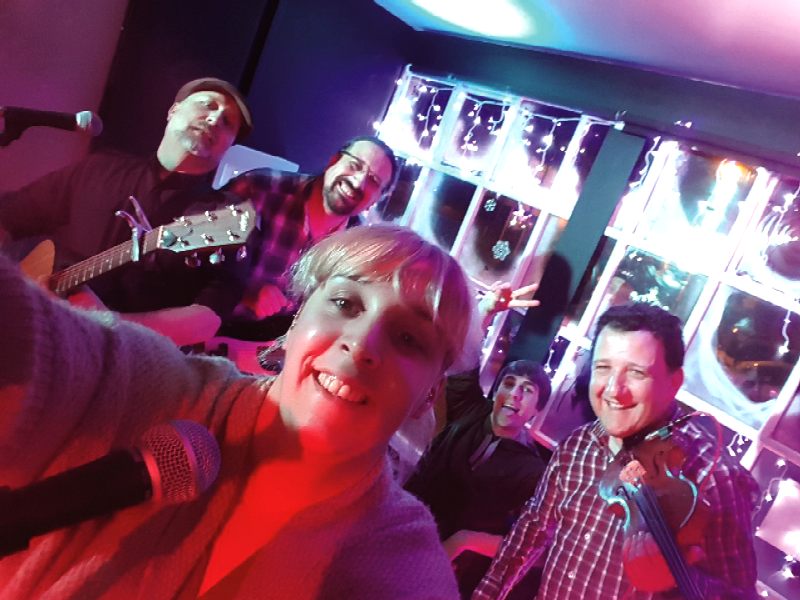 "Vision Thing", a five-piece hailing from the North West, produce harmonious and beautiful music many of which are their own compositions.  Pete Cunliffe - Vocals and acoustic guitar - is a prolific songwriter.  Cherlene (Shelly) Walmsley - Vocals.   Shelly is  popular member of our own Coppull Folk Club, and  has a powerful and distinctive voice.  Paul Cunliffe - Ukelele bass and electric bass - Paul is a veteran of many bands, and is  an accomplished music engineer, and produces albums at his studio in Southport.  David Windsor - Violin - David plays a 100 year old violin through a variety of effects producing "a tone and texture to die for"   Ian Cripps, FATEA magazine February 2017.  Jon Ormrod -  Percussion - Jon adds the beat on djembe and cajon percussion, making for a portable and effective rhythm unit.
MATHER/ROBINSON BAND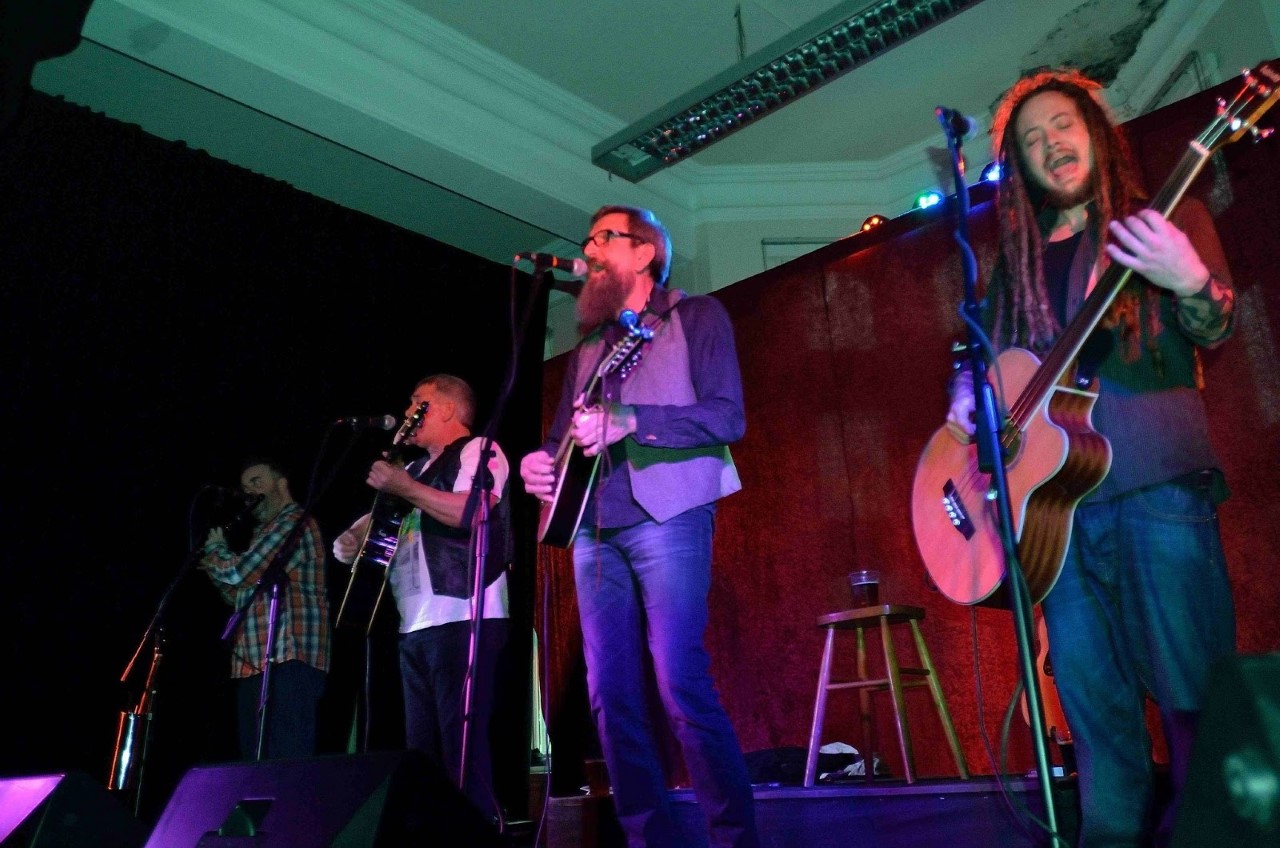 Be warned The Mather Robinson Band get in your face right from the very first note. It's a fair bet subtlety isn't a word the band is familiar with, which is not necessarily a bad thing. Their music is solid, their songs often politically motivated and their lyrics scythe like. Many will remember that sort of thing from when a lot of folk had an edge which so often seems dulled of late.  The band from Manchester, seem to have come out of the shadows where they have be lurking for some time. There is something wonderfully loose about their music it almost seems like when they are playing they want to get on, get it done and get to the bar.  Anthony Quinn, Dave Mather, Pete Robinson and Chris Mather give you thoughtful,  witty , lively music.  They should provide a  rousing  end  to the festival 2017.
And, all entertainment is FREE.  Mavis and Ron kindly provide the bar facilities and venue.   All we ask is that you support Mavis and Ron by buying your drink from them, and contribute to the odd raffle that provides funds to host the Festival.  Coppull Folk invite you to come over to the Alison Arms anytime over the weekend and enjoy  this wonderful  friendly venue, for great music.