ANTHONY JOHN CLARKE FESTIVAL FUNDRAISER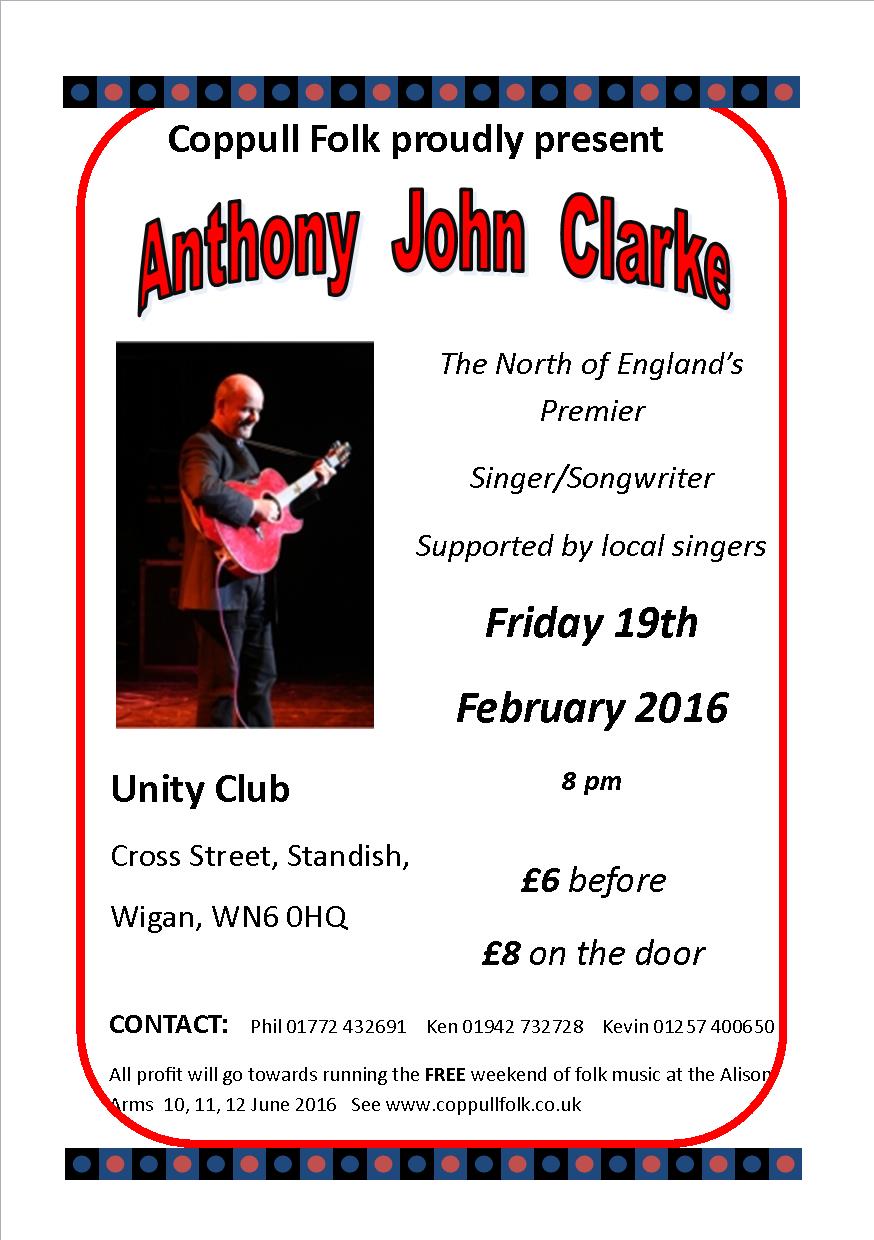 Merry Xmas and a Happy New Year to you
Coppull Folk Club Dates
The Sing Around will not take place on Wednesday 23 and 30 December 2015.  The next Sing Around is Wednesday 7 January 2016.  
Thanks for your support during 2015 both at the club and the Festival, and we look forward to seeing you in the New Year.
The next fundraiser is on February 19, when we welcome the fantastic singer songwriter Anthony John Clarke.  Tickets will be on sale in the new year.  Your support would be very welcome to help us raise funds to run the Free Festival at the Alison Arms, on 10, 11 and 12 June.
REVIEW OF ONE HAND CLAPPING FUNDRAISER 20 FEBRUARY 2015
We had another brilliant night displaying Wigan talent at its best.  Thanks to the support acts, Ken Scalley, Peter Southworth, Chris Taylor, Barry, John Thompson and Mervyn.  Ken opened the show with a few humours lanky numbers.  Peter and the Strawdogs (Ken, Chris and Barry) followed by a few Dylan and Donovan classics.  Then we had a newcomer John, who sang some lovely melodic ballads.  Finally Mervyn finished the first half with his usual guitar mastery and haunting lyrics.
One Hand Clapping did not disappoint. These two gel so well and can range from slow melodic songs to rousing tunes with ease.  Tim sings every song  from the heart accompanied By Chris's tuneful fiddle backing.  Chris started the more up tempo second half with a rousing version of the Mason's Apron and the audience responded with their enjoyment of the excellent set.  They were a delight as always.
Thanks to you the audience for coming to support us.   Thanks to Mervyn for providing the sound, to Phil for doing MC, and to Ken and Kevin for promotion and ticket sales.
The festival is scheduled for 10, 11, 12 June 2016.  The next fundraiser will be on February 19 2016 with Anthony John Clarke.
Maria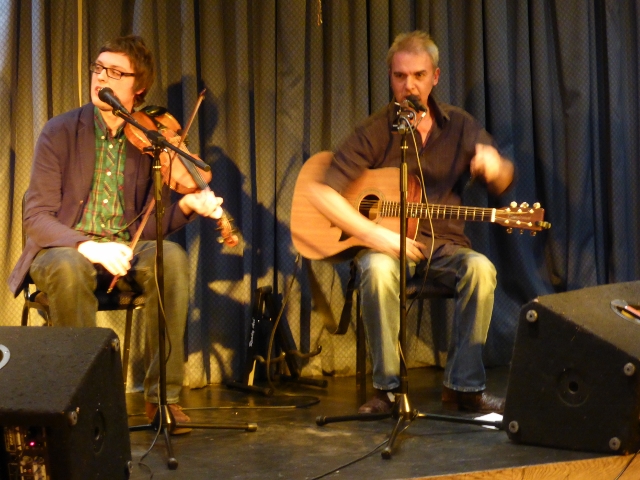 We would be delighted if you could support our next fundraiser for the Coppull Weekend of Folk Music, 10, 11, and 12 June 2016
ONE HAND CLAPPING take to  the stage on FRIDAY 20 November 2015, 8 PM
Tim and Chris are a great duo and complement each other brilliantly with fiddle and guitar, alternating between high energy and soulful melodic songs. Supported by our local singers
UNITY CLUB, Cross St, STANDISH, WN6 0HQ
£5 before  £6 on the door
Contacts:
Phil 01772 432691
Kevin 01257 400650
Ken 01942 732728
After many hours of putting the poles together and undoing them again, we got the tent up. The sun was shining and all was well. Thank you to all the helpers. Roll on Friday.
Friday night was a great start to our music weekend despite the cold weather. Turnpike opened the festival with a lovely duo set and they were followed by the beautiful singing of Ruth and fantastic guitar playing of Ken Powell. They chose music from many different genres as well as contemporary folk, and everythijng they chose had "the magic". They are truly a class act.
Saturday Afternoon started with the song writers show case. Little Bird, Peter Southworth and Ken Scalley entertained us with their self penned songs. It was great to hear original material performed so well.
This set was followed by "TheYoung Uns" who were an absolute delight . Such up and coming talent. Well done, Shannon Walmsley, Adam Cheetham, Paul Regan, Alex Preston, and Lauren Clarke.
Saturday night treated us to the delightful Chonkinfeckle who were superb as always. Their clever self penned lyrics about life in Wigan and environs, were delivered with excellent ukulele and percussion backing. They were entertaining and fun.
Hard Times were brilliant. We had history, storytelling, singalongs, comedy, and virtuoso whistle and banjo instrumentals from Laurie and Gordon. Highlights were the William Tell Overture and the Masons Apron played on the whistle. These got standing ovations.
We had a great day with a full house both in the afternoon and night, followed by another long night session in the bar.
Sunday afternoon saw the usual Open Mic Session which again had good performances from many of the musicians attending the Festival.
On Sunday night, the highly talented Jon Brindley did not let us down. He sang from the heart with his magnificent voice, accompanied by excellent guitar and accordion playing. His new 'beast' adds yet another dimension to his already wide repertoire. His patter is like no other. You can see him again at the Unity Club, Standish along with that other highly talented group Chonkinfeckle, on July 10th. That double bill should be fun. So get there and support your local talent
Also on Sunday night, Ed McGurk and Nic Caffrey treated us to wonderful musical renditions of both traditional and contemporary folk songs. Their harmony and story telling have resurrected many of these gems of songs and brought them back to mainstream audiences. Not many people can do that but these two experienced and accomplished performers have nailed it. The fact that Nic had a throat infection did not deter from this wonderful set. They were a delight and the audience loved them. A comment after summed it up "this is real folk singing". A fitting end to another great music weekend at Coppull AND it didn't rain!!
A big thank you to the tent team who turned up both on Thursday and Monday afternoons.. You did a sterling job and the tents have now been put to bed for another year.
Thanks to Mavis and Ron for all their hard work tending to the bar and keeping their pub open to accommodate so many guests all day and night. Thanks to Westminster Stage Engineering – Bill and Lesley, for making sure that the sound quality was A1 throughout all 5 concerts. Thanks to Ken for the Stage. Thanks to Mavis and Ron and to Phil who provided the tents. Thanks to Ken and Phil who shared the MC'S role. Thanks to everybody who helped with the raffle, both the prize donators and the ticket sellers. Thanks to Coppull Rugby Club for providing the camping facilities. Without all this help, the Festival could not run. A very big thanks to you Phil for co-ordinating it all, and making it happen.
Lastly thanks to all of you who came, and helped to make this Festival of 2015 come alive for the weekend. For old friends and new it was another very memorable occasion and a great success.
Maria
THE HARD WORK BEGINS WITH PUTTING UP THE TENT
FRIDAY NIGHT - Turnpike and Ruth and Ken Powell
SATURDAY AFTERNOON - Outdoor Session, Singer Songwriters and the Young 'Uns
SATURDAY NIGHT - Chonkinfeckle and Hard Times
SUNDAY NIGHT - Bar Session followed by Jon Brindley and Ed McGurk and Nic Caffery
LAST SESSION IN THE BAR
TAKING DOWN THE TENT, CLEANING UP AND END OF FESTIVAL 2015
Westminster Stage Engineering are delighted to once again be providing sound and lighting for the Coppull Folk Festival.  They have a large stock of staging, sound systems and lighting systems available for hire.
Contact them on

This email address is being protected from spambots. You need JavaScript enabled to view it.

or see Bill and Lesley on the sound desk at the festival for more details.
TURNPIKE
The wonderful Turnpike - Traditional and modern folk/ bluegrass musicians. We've all enjoyed their melodic harmony and musical interludes at our Festivals and we look forward to them opening our festival and to another entertaining set. We also hope that they don't have to endure the monsoon storm where they stoically played on despite the waterfall in front of the stage last year!
RUTH AND KEN POWELL
These reviews say it all.
Folk Roundabout - magazine review
Ruth Powell is blessed with a lovely voice and boy! does she use it well!
Ken Powell is a brilliant guitarist who tends to keep his light under a bushel but some excellent playing can be heard on their latest recordings.
Spenborough Guardian - 'Folk stars shine at Cleckheaton Folk festival'
Ruth and Ken Powell provided the perfect partnership, with Ruth's staggering vocal abilities enhanced by Ken's guitar playing, all making for a fine evening of folk.
Wirral Folk Festival - Festival news 2014
Ruth remains one of most exceptional female vocalists in the UK. Her interpretation of the material they choose leaves one in no doubt of her abilities as a singer. Ken has been admired for his ability to enhance and strengthen the personal achievements of a singer and musician over the years with his competent, dedicated guitar playing
CHONKINFECKLE
www.chonkinfeckle.co.uk
Wigan's own totally unique stage act are Chonkinfeckle. The carefully written comedy lyrics about all places and things "Wigan" are accompanied by excellent ukulele, keyboard, percussion and mouth organ playing. These three performers bravely manage to produce a set so different that they can only be classed as brilliant.
HARD TIMES ACOUSTIC FOLK BAND
HARD TIMES is a Lancaster based Folk band who play regularly in Northwest England.
GORDON JOHNSTON ... Banjo, Mandolin, Guitar and Vocals.
LAURIE JOHNSTON ... Whistle, Flute, Mandolin, Guitar and Vocals.
GEOFF WILKINSON ... Bass and Guitar.
Gordon
Gordon Johnston is one of these guys who can play most anything with strings attached. His main instrument in Hard Times is 5 string Banjo which he plays to a level unsurpassed in this part of the world. He is an excellent guitarist and mandolin player and features prominently on these instruments on any performance.
Laurie
Laurie is the band's main vocalist who also plays Flute, Whistle, Guitar, Mandolin and one or two other bits and pieces. As with the other lads, Laurie's performing skills are of the highest order and he expects nothing less from the band as a whole. He is the "Front Man" and presents their shows with good humour, informative anecdotes and musical excellence.
Geoff
Geoff Wilkinson is the band's Bass player and a fine Guitarist who compliments the musicianship generated by this talented trio.
KEN SCALLEY
Ken has been a stalwart promoter of the festival for 5 years and is a very talented musician and all round folk singer. He specialises in traditional Lancashire songs, poems and stories bringing them to life in his own inimitable way. Saturday afternoon is his spot where, not on does he do a great set, but he invites new talent to grace the stage with a different theme each year. There is so much untapped talent in the Wigan area. This year its the young local talent and no doubt the afternoon will be as enjoyable as ever.
JON BRINDLEY
www.jonbrindley.co.uk 
This is one of the most versatile, entertaining, and brilliant singer-songwriters in the North West. We are delighted to welcome him back.
From Jon's Website:
I'd like to let you know about the music in me.... I feel very lucky that I've played and sang in piano bars, at some of the larger folk festivals, art galleries, country festivals, pubs, arts centres, care homes, band stands, on street corners and café terraces all over Europe.
My songs might well take you to new places and after the feeling that brings the creation of a song I want to recreate the atmosphere and spark of that moment…
My latest album, The Missing Emotion, was recorded with my voice, my acoustic guitar and the double bass of James Budden, then layered with other instruments played by myself (with the notable exception of Steve Wickham on the fiddle).

Performing is like being on a journey – one that can find a lively rhythm - and there's so much to share along the way… Sometimes I will caress those guitar strings delicately then other times throw that beat straight at you creating bass lines and layering lead phrases on the chord progressions. My fiddle was handed down from my Grandma and I could well play you one or two of my compositions. I was inspired to take it busking all round Europe after reading Laurie Lee. I've explored music through many forms. Celtic melodies, blues, contemporary folk, country, rock, popular songs and traditional ballads can all be picked out of my repertoire and it's usually my own interpretations. Expect the unexpected!
ED MCGURK AND NIC CAFFERY
www.caffreymcgurk.blogspot.co.uk
We are looking forward to a evening of the finest folk music to close the festival. This popular duo continues to explore the delights of traditional and contemporary folk songs. With their good humour and informed understanding of the song subjects, they instil their particular flare for harmony and enthusiastic performance making each song a joy to hear.
HOUGHTON WEAVERS CONCERT REVIEW 11 APRIL 2014
People started coming from 6.20 pm to ensure they got a good seat at the sell-out concert.

  

Ken started the show with a brilliant set of "Lankie" tales and songs, suitably attired in his "Lankie" flat cap.

 

This continued to be the theme of the night.

 

Steve followed with his melodic renderings of songs and stories of Wigan and environs.

  

His excellent guitar work and delivery are always a delight.

 

Phil ended the first half with two of his favourite songs and got the crowd ready for the main act.

 

All of these talented artists could run a whole concert in their own right but they had to make way for our main guests.
The Houghton Weavers lit up the stage with their slick delivery of stories and jokes, and carefully chosen songs with choruses, that we all knew.  So the audience was involved right from the beginning.  In the second half, their repertoire consisted of songs chosen by the audience, - "You shout out the name and we will sing it", and they did.  There was a strong "Lankie" theme in this half. This demonstrated not only their confidence, but why they have been going for so many years delighting audiences to sell out shows.   They finished the night by inviting all the artists on to the stage to join in a rousing version of "Will ye go lassie  go".  They have a unique ability to leave their audiences with a feel good factor and did just that once again.
Thank you to Ken, Steve, Phil and the Houghton Weavers, thank you to the back-up team who work diligently to make the concert such a success, and thank you to you the audience for supporting us.  We now look forward to the main event – the Free Festival at the Alison Arms on 6th, 7th and 8th June, 2014. 
ONE HAND CLAPPING FUNDRAISER REVIEW 21 February 2014
Another great night of live music was enjoyed by all.
Mervyn opened the show with his musical lyrics and top notch guitar work.
Then came Queen Jan who lived up to her name with her dynamic and musically inventive set, featuring the bodhran, guitar and ukulele.  She radiates power and confidence and good humour, and we always enjoy her performance.
One Hand Clapping finished the evening with a terrific set which alternated between high energy and soulful melodic songs.  Tim and Chris are a great duo and complement each other brilliantly with fiddle and guitar.  They were on great form and obviously enjoyed themselves.  This enjoyment was infectious and had us all dancing by the end of the evening.
Thanks to Mervyn for the sound which was brilliant as always, to Ken the MC, to those who donated raffle prizes and helped to sell tickets, and to you the audience for making the night a great success.  Let's hope that the Houghton Weavers concert on April 18th is just as good!
GARY AND VERA CONCERT REVIEW
Another great night of music making, thanks to all who helped - 8 November 2013.
Coppull Folk's fundraiser was a wonderful night of live music.  Talented regulars Ken, Jim, Steve,  and Mervyn did us proud with their melodic sets .   Bryn provided some brilliant guitar accompaniment to Steve and Jim, and a few people even remarked that the main guests Gary and Vera had a very hard act to follow!  However Gary and Vera got into their stride with their Lanky jokes, stories and songs and had us all laughing for most of the night.  Thanks to all who performed, to Mervyn who did an excellent job with the sound, and to you the audience who came from near and far to support promoting live music, and, the next Folk Festival  at the Alison Arms in June 2014.